Doctoral colloquium of the IfM at the University of Iceland in Reykjavík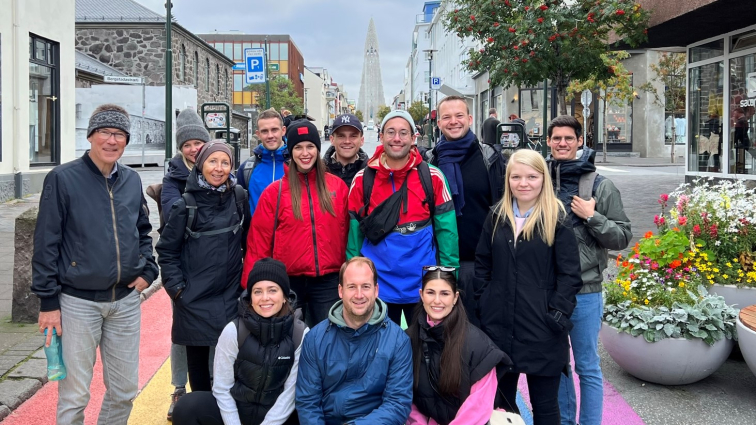 As part of a doctoral colloquium, Professor Manfred Krafft and his team from the Chair of Marketing Management (IfM) visited the University of Iceland in Reykjavík in mid-September. During two days, an exciting exchange with two different departments of the University of Iceland took place.
The professional exchange started at the beginning of the week with Professor Kári Kristinsson and his doctoral students from the Faculty of Business Administration. Two doctoral students of the IfM presented their research work: Michael Gerke, who presented his joint project with Tim Kalwey on "Interpersonal Influence Techniques in Personal Sales" and Tim Kalwey, who gave a presentation on the current changes in B2B salesand here in particular the transformation of the sales function itself. The seminar was concluded at the end of the week with Sigurður Jóhannesson, Director of the Institute of Economic Studies. He was among the audience of a presentation by Victoria Kramer, who was officially invited by the University of Iceland to give a presentation on her project "Enhancing Solution Effectiveness: The Role of Customer Adaptiveness".
The seminar led to interactive discussions from which the PhD students could take away helpful feedback. In addition to the technical presentations, the exchange of ideas was additionally strengthened by a joint lunch and dinner. The latter was also joined by Professor Gylfi Magnússon as head of the Business Faculty.
As further teambuilding activities, the IfM team in Iceland undertook joint activities such as a self-guided "Golden Circle Tour", a round trip through the south of the country, whale watching as well as viewing the Northern Lights. This once again strengthened the team spirit and created anticipation for working together in the upcoming winter semester.