Focus on the Customer – Digital CEMxHenkel Workshop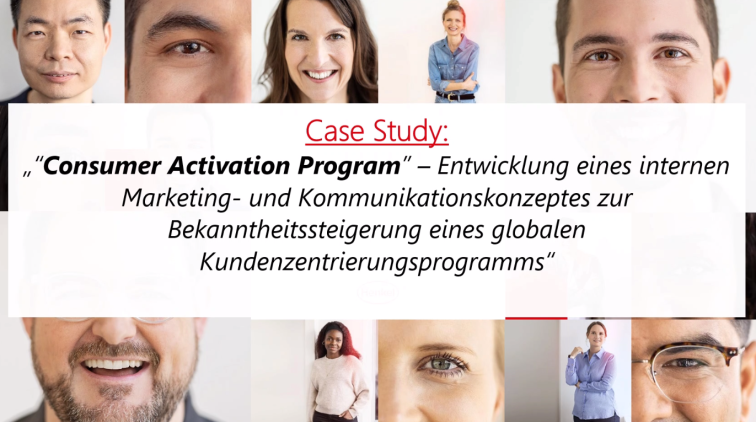 On February 1, 2022, the Circle of Excellence in Marketing (CEM) partner Henkel welcomed 20 students from Berlin, Cologne and Münster to a digital workshop. The warm welcome from Katja Keulertz (Junior Consumer Insights Manager) and Nico Reichert (Global Consumer Insights Manager) was followed by a company presentation including the business units and brands from the Düsseldorf-based consumer goods manufacturer.
After a general introduction, the company representatives, together with the students, delved deeper into the topic of consumer insights and worked on the case study of the workshop. It dealt with "Consumer Activation Program - Development of an internal marketing and communications concept to raise awareness of a global customer centricity program". The Consumer Activation Program is a global customer centricity initiative by the company to connect marketing and innovation teams with their consumers. By means of interviews with consumers from all over the world, information and insights are obtained directly and without detours from consumers. The students' task within the workshop was to develop an internal communication strategy for the program described above. They were to develop activities that would be implemented over a period of 6 months in order to achieve the goal of increasing awareness and encouraging participation. For this purpose, students were divided into small groups to first develop the general strategy considering each activity, channel and stakeholder, and then further elaborate on each of them in detail. Within the small groups, a wide range of creative ideas were developed which were presented to the entire group of participants. The feedback and questions from the company representatives gave the students insights into measures that had already been implemented so far as well as the challenges and potentials of some of the proposals. In fact, some of the ideas were so well received that they will be considered for some of Henkel's future projects.
The five-hour workshop was concluded with a general Q&A about Henkel and an exchange with the HR department, who provided insights on entry-level opportunities in the form of internships, working student positions or traineeships.
We would like to thank Henkel for this very interesting workshop and are already looking forward to future joint formats with the Circle of Excellence in Marketing.