When Our MBAs Met a Legend – Marketing Talk with Prof. Heribert Meffert
At the invitation of Prof. Thorsten Hennig-Thurau and Prof. Sonja Gensler, the students of Münster University's Marketing MBA program had the opportunity to attend a special event with Prof. Heribert Meffert on March 26th 2019. During his talk, which took place 50 years after he became Germany's inaugural marketing professor, Prof. Meffert emphasized the importance of strategic marketing for firm success and identified some fundamental changes to the marketing concept over the course of his unique career.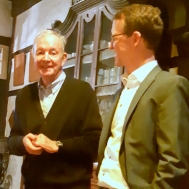 Prof. Meffert's speech at the Mühlenhof Freilichtmuseum in Münster was followed by a lively discussion on current challenges in marketing, the signing of books, and some photo opportunities. Many participants will remember their evening with the marketing legend for a long time to come.
Prof. Heribert Meffert accepted an offer from the University of Münster in 1968 and served as director of the Institute for Marketing until 2002, when Prof. Manfred Krafft took over. Back in 1969, Prof. Meffert was one of the co-founders of today's Marketing Center Münster (MCM). He is co-creator of Münster's MBA program and was its scholarly director until 2006.