Event | Major Marketing Bootcamp 2018 (Master B.A.)
Thursday, 4. October 2018 (All day)
,
Rüstkammer of the city hall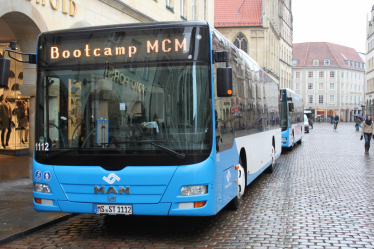 Wir freuen uns, dass Sie den Major Marketing gewählt haben und dass wir Sie im Oktober am Marketing Center Münster (MCM) begrüßen können.
Das MCM veranstaltet jedes Jahr in der O-Woche das Major Marketing Bootcamp, um die neuen Studierenden willkommen zu heißen:
Weitere Infos zum Major Marketing Bootcamp (Anmeldung erforderlich)
In diesem Jahr findet das Major Marketing Bootcamp am 4. Oktober 2018 statt. An diesem Tag lernen Sie uns, Ihre neuen Kommilitonen sowie aktuelle Masterstudierende kennen. Wir informieren Sie über die Lehrangebote des MCM sowie den Aufbau des Masterstudiums. Zudem können Sie sich über die Minor-Fächer und Auslandsaufenthalte informieren. Am Nachmittag haben Sie die Gelegenheit Unternehmen in Münster kennenzulernen.