2016 Dissemination Award presented to Professor Manfred Krafft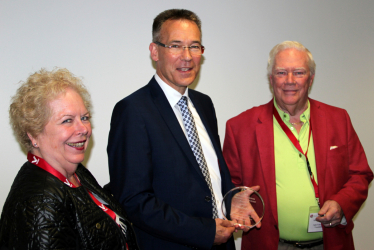 The Sales Education Foundation (SEF) expanded its international presence recently as the foundation sponsored the first international Sales Educators' Academy (SEA) held at Aston Business School, Birmingham, UK, in early June. During the previous week at a special session of the annual Global Sales Science Institute (GSSI), also held at Aston, Howard and Sally Stevens, co-founders of SEF, presented Professor Manfred Krafft with the 2016 Dissemination Award. Professor Krafft is the first international recipient of this annual award, begun by a partnership between SEF and Neil Rackham to honor an individual who has advanced the sales profession through the sharing of sales specific research. According to Mrs. Stevens, "During the conference I talked with Neil about this year's program. He beamed a big smile when I told him that half the votes for Professor Krafft came from practitioners in industry. That captured the spirit of the award which promotes application of research findings in the world beyond academics."
Professor Krafft's award provides for designated funds to be donated in his honor to a sales-related non-profit organization. Professor Krafft designated Pi Sigma Epsilon as the recipient, saying: "I dedicated the money connected to my award to PSE as this organization has shown a long-term commitment to sales research. PSE has sponsored the Journal of Personal Selling & Sales Management starting in the early 1980s, and has also been engaged in supporting sales education all the time. I simply like their continuous support of our profession and scientific community!"
Ann Devine, CEO of Pi Sigma Epsilon says: "The Pi Sigma Epsilon National Educational Foundation is very grateful to Professor Manfred Krafft for his generous donation of the $5,000 grant received from the Sales Education Foundation (SEF). Specifically, Professor Krafft's donation will provide scholarships to support Sales Doctoral Students attending the National Conference in Sales Management."
For information on future grants, partnerships and support opportunities, or to learn more about the growing sales education space, visit http://www.salesfoundation.org.