Auszeichnung herausragender Abschlussarbeiten am MCM in Kooperation mit Henkel AG & Co. KGaA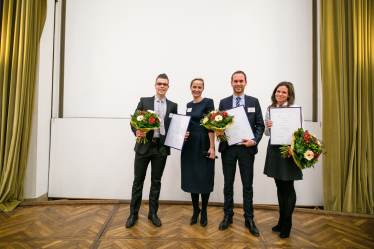 Am 25.11.2016 wurde im Rahmen des Münsteraner Marketing-Symposiums der Henkel Thesis Award für die besten Masterarbeiten im akademischen Jahr 2015/2016 verliehen.
Der Preis, der bereits seit 2007 von der Henkel AG & Co. KGaA gestiftet wird, wurde in diesem Jahr an Maria Kaschke ("Towards an Understanding of the Privacy Paradox – An Empirical Analysis"), Ulf König ("New Business Models for News Publishers") und Fabian Kraut ("Recommendation Systems in Marketing") vergeben. Frau Gesa Geissel, Head of Digital Marketing Brands & Campaigns von Henkel, überreichte die Urkunden und interviewte die Preisträger zu ihren persönlichen Lerneffekten und möglichen Bezügen zwischen ihrer Abschlussarbeit und ihren aktuellen Tätigkeitsfeldern. Wir gratulieren Maria Kaschke, Ulf König und Fabian Kraut sehr herzlich!