Customers in the solutions business: What role do they play and what makes solutions more effective for them?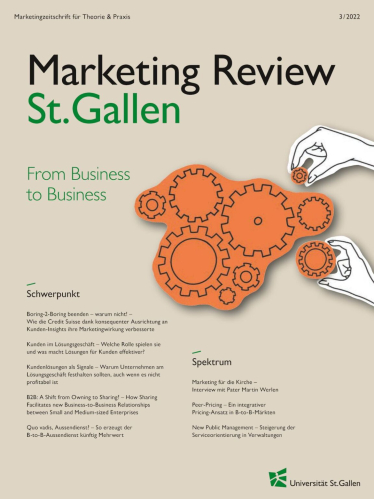 Due to increased international competitive pressure, supplier companies in the B2B sector are transforming from product providers to solution providers. In the solutions business, suppliers provide their customers with individual offerings with the aim of improving customer processes by solving strategically important customer problems. However, solutions can only be successful if customers actively participate in the different phases of the solutions process, namely the definition of requirements, the implementation as well as the review of the offering.
Victoria Kramer and Professor Dr. Manfred Krafft (both IfM) shed light on how customers contribute to the success of solutions, what characteristics solution customers should ideally possess, and how customers evaluate the success of solutions in their new publication entitled "Customers in the solutions business - What role do they play and what makes solutions more effective for customers?", published in the third issue of this year's Marketing Review St. Gallen. Essentially, the success of a solution requires partnership and conflict management between customers and providers. Before solutions are implemented, providers should precisely work out and define the objective of the solution with their customers and support them in eliminating uncertainties. During solution implementation, access to key stakeholders in the customer organization must be established to optimize the exchange of information. Throughout the solution process, commitment and flexibility are required not only on the supplier's side, but also on the customer's side. Customers should therefore be segmented according to their suitability for solution selling.