Virtual Guest Lecture by Mars in the Sales Management Course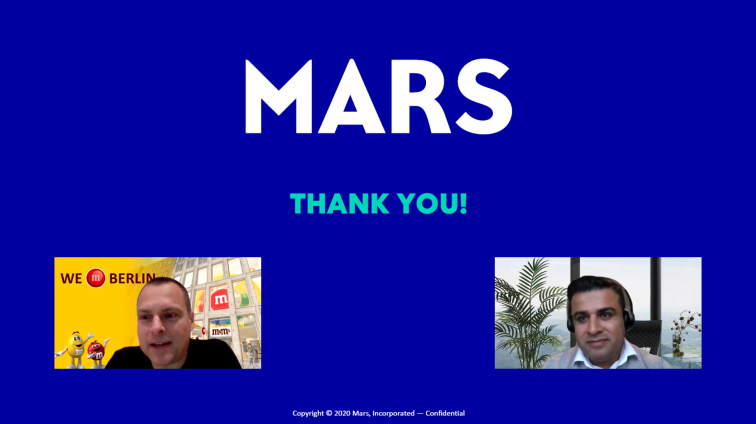 On Friday, 15 October 2021, we were once again pleased to welcome representatives from the Mars company to the Master's course "Sales Management". The guest lecture by Mars is a repeat of a long-standing and good tradition to give students valuable insights from corporate practice.
The guest lecture was again held in a virtual format. Thereby, all students were able to attend the lecture remotely and listen to what Frank Hanisch, Channel Development Director, and Nexan Chopra, European Customer Business Director, had to say.
Before the official guest lecture began, Mars announced the opening of the new M&M store at Kurfürstendamm in Berlin, which is the largest M&M store in the world, as an interesting side aspect. After that, Frank Hanisch opened the presentation with an interesting introduction of Mars, which included the company's history, its wide brand portfolio, and further information concerning Mars Germany. Subsequently, Nexan Chopra highlighted the increasing importance of e-commerce in today's world due to, amongst other factors, the central role of smartphones in people's lives. This has led to the growth of the online market and trends towards online channels. He mentioned the changing shopping behavior with demands shifting towards personalization and omnichannel, which is also driven by Amazon as the most successful online player in the Western Hemisphere. Especially with regard to the impact of the Covid 19 pandemic, different business models were illustrated, such as the increased e-commerce efforts of offline retailers and the market entry of new players like Gorillas. The students were able to apply the steps for defining a channel strategy taught in the lecture to Mars' business in relation to its confectionery portfolio. Complementing the theoretical knowledge from the Sales Management course, Mars gave an insight into the opportunities and risks that multichannel management poses for the company.
Nexan Chopra discussed omnichannel management through a case study on entertainment formats such as the Pedigree Dentastix SelfieStix. In conclusion, Mars' strategy emphasizes the need for offline and online channels going hand in hand and highlights the importance of identifying and responding to the needs of different channels in particular. As a conclusion to the guest lecture, the students received information about career opportunities and the working culture at Mars.
The guest lecture was followed by a Meet & Greet where students and Mars employees had the opportunity to speak directly with each other. Thanks to the interactive session, students were able to ask questions about HR-related topics as well as the content of the guest lecture.
Finally, we would like to take this opportunity to thank the Mars representatives for the informative and interactive guest lecture.