How empathy helps to create successful advertising campaigns – Guest lecture by Grabarz & Partner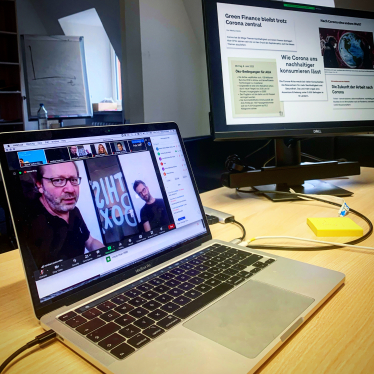 In response to the positive feedback for their guest talk last year, Grabarz & Partner again followed the invitation by Professor Kübler and joined the lecture "Integrated Marketing Communications" on July 6, 2020. During their 90-minute presentation, Reinhard Patzschke, CEO Consulting at Grabarz & Partner, and Bastian Goldschmidt, Head of Strategy, showed how they convert social trends into successful advertising campaigns. Grabarz & Partner belongs to one of the most successful German advertising agencies and has just been awarded as one of the "Top Ten Creative Agencies of the Decade". They are working together with companies such as Porsche, Volkswagen, Fielmann or IKEA. 
In their presentation, the two advertising specialists argued that in today's so-called "second era of enlightenment" advertising agencies do not only have a responsibility for brands, but also for society. Thus, they underlined the importance of empathy which helps them to develop campaigns which meet the current zeitgeist and to eventually cut through the advertising clutter. When planning new communication concepts, the company checks whether advertising and information campaigns are positively or negatively affected by these topics or if they lead to new communication potentials. To better illustrate their statements, both speakers brought along a collection of carefully selected trends currently affecting society which they summarized in five different statements including Shit is getting personal, Let's talk about sex or Let's get stoned. A little.
As the students of the "Integrated Marketing Communications" class are to develop an integrated communication campaign for different Münster-based businesses which face challenging times due to the ongoing COVID-19 crisis, the presentation has been followed by a vivid discussion. Students had the possibility to exchange first ideas regarding their campaigns and to discuss how their project cases relate to the different trends presented. 
Despite this year's presentation could only take place in a virtual environment, one could sense the great passion Grabarz & Partner puts into its work. Also, the camera in front of which Reinhard Patzschke and Bastian Goldschmidt presented, allowed for insights into the premises of the advertising agency and gave an idea of the pleasant working atmosphere which otherwise would have remained hidden. 
All in all, students were very enthusiastic about the talk as it picked up the theoretical elements from the lecture and transferred them into a practical context. Hence, it not only helped the students to better understand the different lecture contents, but also underlined the high relevance of marketing education in Münster.