Chair of Marketing Management Awarded for the Best Chair Project 2020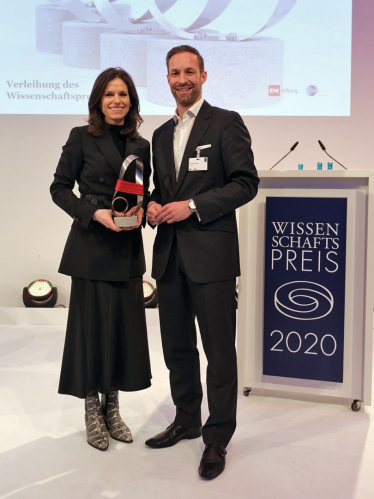 Sustainability, Artificial Intelligence and Social Media are currently revolutionizing the retail industry. At the EuroShop trade fair in Düsseldorf on February 18, leading representatives from research and business got together to discuss how recent developments in technology and society reshape the retail industry.
A major highlight of the fair was the festive gala (Impressions of the award, provided by the EHI Foundation) moderated by Marlene Lohmann (Director EHI Foundation). Every year, the EHI Foundation and GS1 Germany award a science prize to excellent scientific work and projects with high practical relevance for the retail industry.
Endowed with a sum of €20,000, the prize for the best chair project was awarded to Prof. Dr. Manfred Krafft and Dr. Mirja Kroschke from WWU's Chair of Marketing Management (IfM). The scientific project was conducted in cooperation with the German retailer Real, which, as other stationary retailers, invests considerable financial efforts in recreating retail spaces with cutting-edge technologies to meet and exceed their customers' needs. However, little was yet known about the effectiveness of such measures. Together with a few of Real's top executives as Marcel Uphues (Financial Director, Real Germany), Prof. Krafft and Dr. Kroschke shed new light on how the transformation from shopping facilities to worlds of experience is reflected in the performance of the company. By means of a close investigation of the "Real Markthalle concept", the research further revealed how different groups of buyers can be successfully retained or attracted by a store re-invention. The researchers really appreciated the professional and dedicated contribution of its cooperation partner REAL.
After the award ceremony, the approximately 250 guests shared their insights and impressions at a Wine & Dine which provided an excellent opportunity for an informal exchange. More information about further winners and projects of the science prize 2020 can be found here.
The IfM sincerely thanks the EHI foundation and GS1 Germany for the inspiring event and is already looking forward to further reshape the retail landscape.