Professor Anne T. Coughlan officially honored as "Visiting International Professor" (VIP)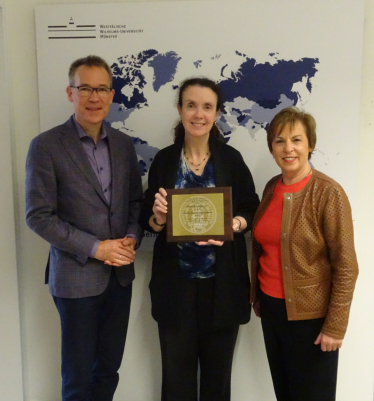 Prof. Anne T. Coughlan holds the Polk Brothers Chair in Retailing and has been Professor of Marketing at the Kellogg School of Management at Northwestern University in Evanston (USA) since 1985. Her research focuses on sales channels, sales management, compensation and pricing. She currently conducts research on topics such as multichannel management or measuring the compliance, monitoring and enforcement of MAP policies. From October 29 to November 6, Prof. Anne T. Coughlan was once again a guest at the Marketing Center Münster to work with Prof. Manfred Krafft and Michael Gerke, PhD student at the Chair of Marketing Management, on a research project on direct selling.
On November 5, Prof. Anne Coughlan was officially honored as "Visiting International Professor" (VIP) by the Dean of the Faculty, Prof. Theresia Theurl, as part of her commitment to FB4. The VIP program honors international scientists who have supported the department for at least three years for their commitment to research and teaching. Besides, the program serves to support the expansion of the faculty's international network. Students also benefit from the experience and expertise of the visiting scientists and from the increasing offers of courses taught in English.