Dwayne D. Gremler and Mark B. Houston: Two Visiting International Professors ("VIPs") of Münster's School of Business and Economics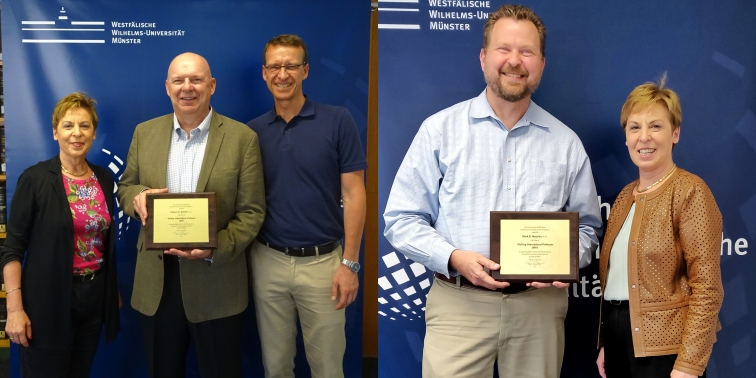 As part of their visits to Münster this summer, Dr. Dwayne D. Gremler and Dr. Mark B. Houston both received their Visiting International Professors awards by the School of Business and Economics. These "VIP"  awards are highly selective, given to only a very small number of distinguished scholars from outside Germany, honoring them for their long-term and ongoing services to the school. The "VIP" awards for Gremler and Houston were presented to the two marketing scholars and regular visitors of Münster University's Marketing Center by the school's dean, Professor Theresia Theurl, on behalf of the school's faculty on June 7th and June 18th, respectively.
Dwayne D. Gremler, who holds a Ph.D. from Arizona State University, is a professor of marketing at Bowling Green State University in Ohio. He dedicated his career to issues related to services marketing. In addition to having published in marketing's leading journals, he is co-author of the leading textbook "Services Marketing: Integrating Customer Focus Across the Firm" and has organized conferences in Australia, Finland, France, Portugal, The Netherlands and the United States. During what was his fourth stay at the WWU, he also taught a master's course in service management.
Mark B. Houston is a marketing professor at the Neeley School of Business at Texas Christian University (TCU) in Fort Worth. His research focuses on innovation and technology management, product development, and relationship marketing, as well as on entertainment marketing – together with MCM professor Thorsten Hennig-Thurau, he is co-author of the forthcoming 800+ pages monograph "Entertainment Science" (from Springer Nature). During his now seventh visit to Münster this June, he offered a doctoral course on the subject of "Survey Research", promoted publication projects, and supported Münster's doctoral students in their research.
The MCM congratulates Dwayne D. Gremler and Mark B. Houston – and looks forward to their return to Münster next June!
About the VIP program: As part of the internationalization strategy of the School of Business and Economics, the "VIP" program facilitates scholars from around the world to participate in the faculty. The partnership is scheduled to run for at least three years and includes a commitment to research and teaching. This way, the faculty further expands its international research network while students are getting the opportunity to benefit from the experience and knowledge of distinguished international lecturers.