Double Degree Program
As of the winter semester 2016-2017 master's students can obtain a double degree awarded by the University of Münster and the University of Groningen (Rijksuniversiteit Groningen) if they are majoring in marketing and minoring in finance. The Rijksuniversiteit Groningen is one of the most famous universities in the Netherlands. The double degree program enables students to obtain a degree from both universities without an extension of study. At the same time it allows them to gain experience in a foreign country. If you are studying in Münster and you opt for the double degree program you will spend the first year of the master's degree course in Münster and the second in Groningen. Your master's thesis will be supervised by two persons – one in Münster and the other in Groningen.
The first-year course timetable for the Münster-Groningen double degree program is shown in the following diagram: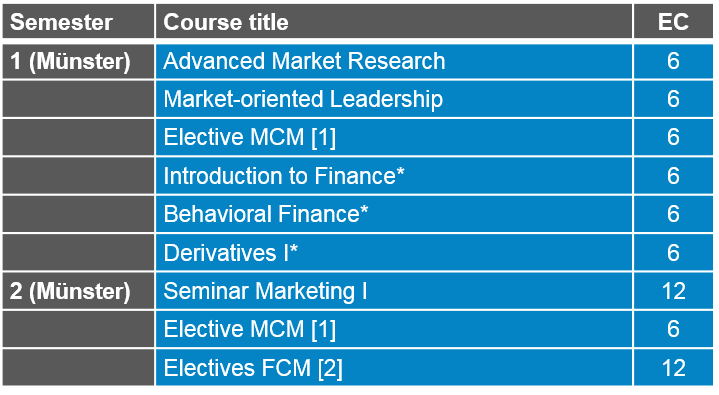 Applications for the Münster-Groningen double degree program should be submitted to the IRC (International Relations Center). If you wish to spend the winter semester in Groningen, you should submit your application by January.
Further information can be found here.
The coordinator of the master's degree program, will be happy to assist you if you have any questions.