Doktorandenseminar in Kooperation mit der University of Strathclyde, Glasgow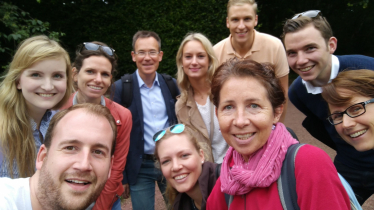 Das diesjährige Doktorandenseminar führte das Lehrstuhlteam um Professor Krafft vom 6. bis 8. September nach Schottland. Zusammen mit zehn PhD-Studierenden und Professoren des Department of Marketing der Business School an der University of Strathclyde in Glasgow wurden methodische und inhaltliche Fragen verschiedener aktueller Forschungsprojekte diskutiert. Mirja Bues und Professor Manfred Krafft trugen zudem Erkenntnisse aus aktuellen Studien vor. Anschließend bot Dr. Matthew Alexander (Senior Lecturer in the Department of Marketing) nicht nur Einblicke in das PhD-Programm an der schottischen Universität, sondern lud die Gäste des IfM auch zu einer Stadtführung durch Glasgow ein.
Neben dem fachlichen Austausch kam das gesellige Beisammensein nicht zu kurz. In Edinburgh gehörten der Royal Botanic Garden, die Royal Yacht Britannia und Edinburgh Castle zu den zentralen Stationen des Sightseeing-Programms. Beim gemeinsamen Essen oder einer nächtlichen Tour durch die Kellergewölbe der Stadt hatten alle Teilnehmer viel Spaß. Nach einer kurzen Einführung in den Herstellungsprozess und die Geschmacksvielfalt schottischer Whiskys trat das IfM-Team am dritten Tag schließlich die Heimreise nach Münster an.