The day Amazon came to Münster!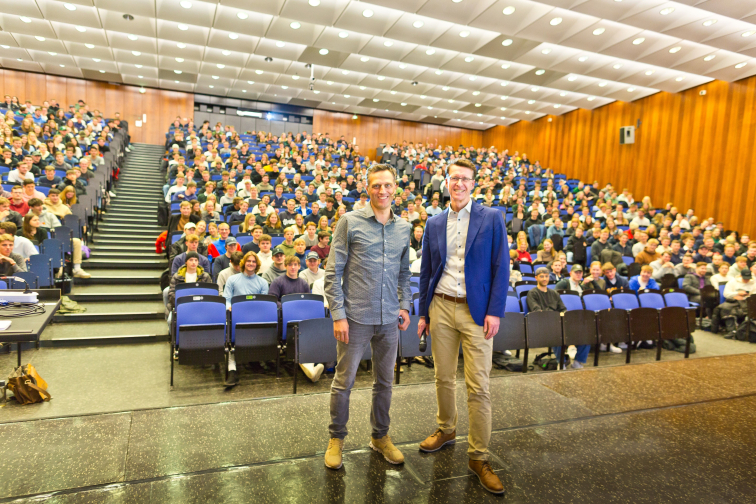 MCM professors Thorsten Hennig-Thurau and Manfred Krafft jointly chair the Münster School of Business & Economics effort to transform business education at the undergraduate level. An essential element of the School's new bachelor's program is its extensive onboarding module, which features the integration of theory with practical insights from industry leaders. This week, the MCM professors had the great pleasure to welcome Rocco Bräuniger, Amazon's Country Leader for Germany and the DACH region, in Münster's largest lecture hall.
Mr. Bräuniger spoke about how Amazon practices customer centricity, the concept which can be easily argued to be the main reason for the company's rise from online bookstore to global digital powerhouse. Our students learned how Amazon ensures that "the customer" is always present in business meetings, how everything starts with the customer, and why it's always "Day 1" at Amazon. Then it was up to our students to ask questions, which they did quite extensively: about our guest's personal career decisions, what customer centricity means for those who work outside of marketing, and how he learned to know Jeff Bezos, Amazon's legendary founder.
After a short stopover to catch some Flammkuchen the professors led their guest to the Münster Castle for a more intimate event: A (digitally enhanced!) fireside chat with about 100 master students, during which both detailed topics (the downstream effects of a new TV series!) as well as broad strategic issues, like the interplay between customers' interests and those of other stakeholders, including employees, were covered.
So the day Amazon came to Münster turned out to be a pretty long one. But what really matters is that it was also a day full of insight and inspiration. Professors Hennig-Thurau and Krafft thank Rocco Bräuniger for making this possible – and thus for contributing to the Münster vision of building a better kind of business education!