Procter & Gamble shares practical insights with the Market Research course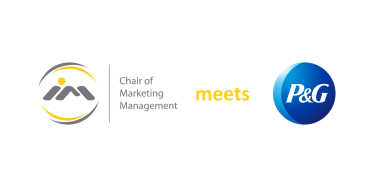 In all courses of the Marketing Center Münster, not only theoretical knowledge is taught, but the application of this knowledge in practice is of utmost importance as well. In order to give students first-hand insights into the application of market research in practice, this semester, the Chair of Marketing Management invited two guest speakers from Procter & Gamble to give a guest lecture in the bachelor course "Market Research." With well-known brands such as Gillette, Head&Shoulders, Pampers, and Ariel, US$76.1 billion in sales in 2021, and more than 100,000 employees worldwide, Procter & Gamble is one of the largest FMCG manufacturers in the world. Furthermore, Procter & Gamble has been considered a pioneer in the field of corporate market research since day one.
On April 22, Andreas Onnen, Head of Analytics and Insights, and Isabelle Mayer, Senior Manager Analytics & Insights Drug Channel, were welcomed to the H1, where about 50 students participated in person, while more than 250 joined the live stream via Zoom. In their guest lecture "How Shoppers Shop," Mr. Onnen and Ms. Mayer talked about the application of principles of market research at Procter & Gamble and how, among other tools, observational studies and A/B tests help them to better understand how shoppers shop. At the end of the lecture, students also had the chance to directly ask questions to the two guest speakers.
The Chair of Marketing Management would like to thank Mr. Onnen and Ms. Mayer very much for their informative and entertaining visit to the Marketing Center Münster and hopes to welcome them again in the near future!