Guest Lecture by Dow Goes Digital in Times of COVID-19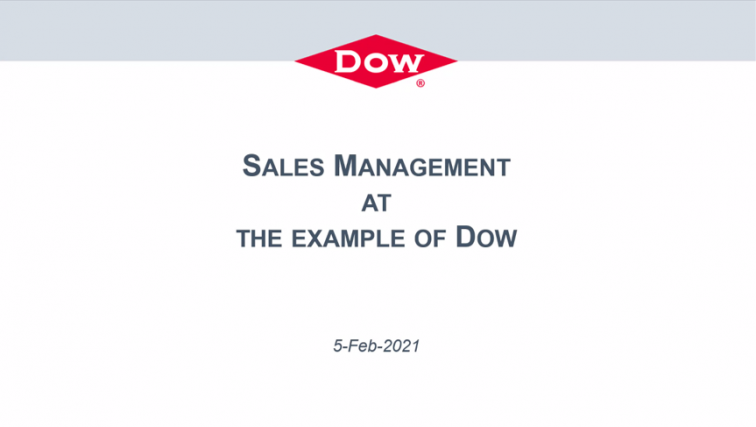 In keeping with the tradition, the Chair of Marketing Management (IfM) was once again pleased to welcome representatives from Dow to this year's Sales Management Lecture. Unlike in previous years, the guest lecture on February 5 took place completely digital. Prof. Krafft and his team welcomed Klaus Rudert (Global Customer Executive and Managing Director Dow Germany), Benedikt Rammrath (Senior European Customer Manager), and MCM Alumna Irene Meinhardt (Senior Global Customer Manager) to this session.
The content of the presentation was divided into three parts. It started with a short introduction, presenting the company history, the business organization, high level product portfolio as well as the production sites in Germany. Also the merger with DuPont in 2015 and the subsequent restructuring into three specialized business units were covered topics. During the presentation, it quickly became clear that Dow's purpose "Combining the power of science and technology to passionately innovate what is essential to human progress" has been highly relevant since the company was founded in 1897 by Herbert H. Dow.
The second part of the guest lecture focused on the B2B business environment and its challenges. The challenges for Dow are divided into internal and external challenges. In the internal context, the focus is on the constant need for cash flow to fund highly complex and state of the art assets. But also the right and timely product management and multilayered supply chain management tasks. In contrast, the external challenges are primarily characterized by external uncertainties. These are for example geopolitical developments, high volatility concerning prices and currencies because of multinational operations, increasingly complex tasks to decide in which regions to invest in or impact of digitization and environmental obligations. Here, Dow's strong focus on sustainability, which has been confirmed by several important awards, has to be pointed out and is centered around three main pillars. Firstly, climate protection through measures such as electrification, hydrogen and increased use of renewables. Secondly, circular economy through platforms such as advanced plastics recycling. And thirdly, the use and development of safer materials.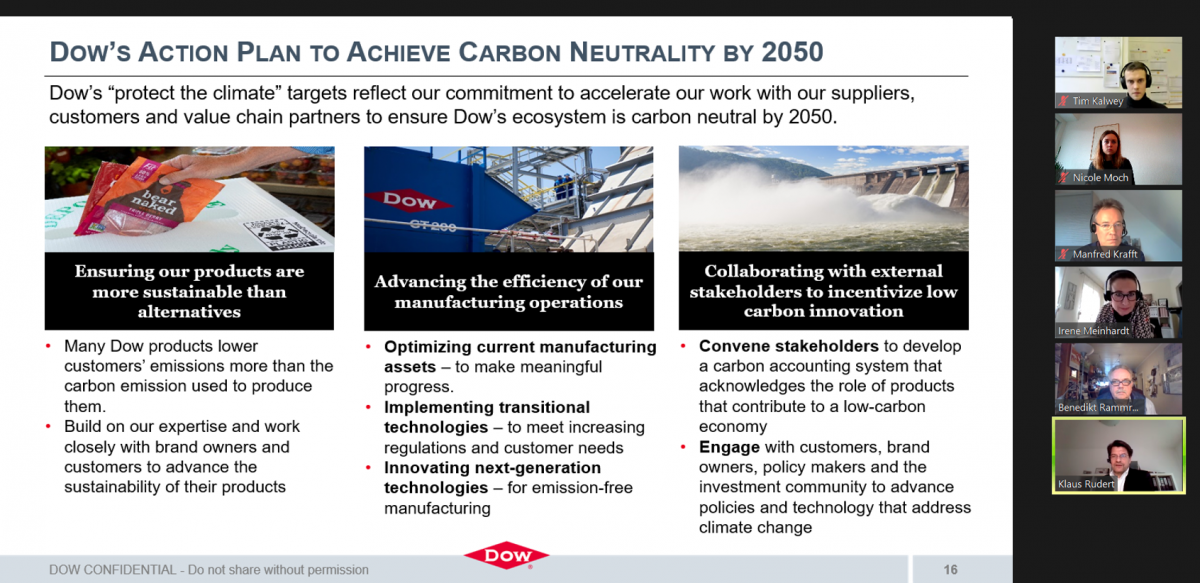 In the third part of the presentation, the speakers once again made strong reference to the lecture content of Sales Management and were thus able to nicely supplement the lecture with practical insights. Dow emphasized that there is a clear market focus with regard to customer relationship management. Employees and customers are of particular relevance in order to be able to achieve the best results, because successful and satisfactory cooperation is beneficial for both sides. In this context Dow's EX/CX model was explained. Meaning positive employee experience (EX) leads to positive customer experience (CX).
With regard to the corporate organization form, the speakers emphasized that Dow's matrix organization deliberately leads to challenges for the organization as a whole in order to increase the probability of achieving the best possible business results. Finally, the topic of sales force management was addressed. Among others, the allocation of selling effort, communication channels, management were highlighted and key working principles were outlined.
Before the guest lecture turned into a more informal exchange in the form of breakout sessions on thematic points as well as career opportunities, Irene Meinhardt once again presented the entry opportunities in a large group. Particular emphasis was placed on the Dow commercial development program, which offers diverse possibilities to take over considerable responsibility at Dow for various functions (marketing, business development, account management, etc.). Mrs. Meinhardt also gave personal insights into this program, having gone through it herself.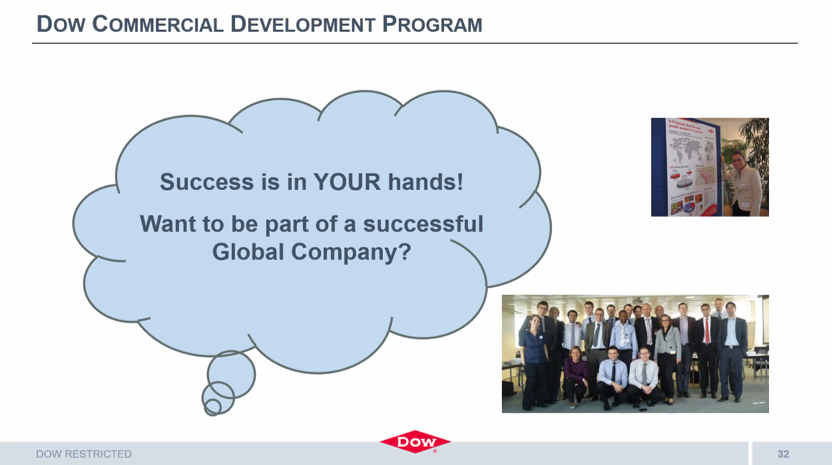 Finally, we would like to take this opportunity to thank Dow and the speakers once again and hope to welcome them again next year, hopefully in person.
This article has been written with the help of Christoph Maximilian Barg, Student Assistant at the Chair of Marketing Management.