IfM Research Fellow Dr. Jonas Schmidt is Runner-Up for the Mary Kay Dissertation Award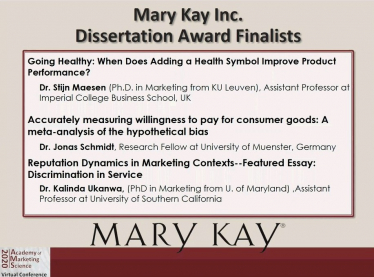 Dr. Jonas Schmidt, research assistant at the Chair of Marketing Management, participated in the award ceremony for the best dissertation hosted by the Academy of Marketing Science. The Academy of Marketing Science is an international, scholarly organization dedicated to promoting high standards and excellence in both the creation and dissemination of marketing knowledge and the advancement of marketing practice around the world. For more than 25 years, the international cosmetics company Mary Kay Inc. has been sponsoring this prestigious award, which is exclusively presented to the world's best dissertations in marketing. 
Jonas Schmidt was among the finalists for the 2020 Dissertation Award with his dissertation on "Accurate Measurement of Willingness to Pay: Analyses of Hypothetical Bias" under the supervision of Prof. Krafft. His dissertation refutes the widely accepted assertion that complex indirect willingness to pay measuring methods provide more exact results than simple direct approaches. In contrast to the prevailing opinion, Jonas Schmidt shows that direct methods enable more accurate measurements with less effort and thus offer added value for both research and business practice. Even though he, unfortunately, did not receive the award in the end, being among the small group of finalists speaks for the quality and rigor of his research.
We congratulate Jonas Schmidt on this achievement.