MCM und Heribert Meffert-Bibliothek bleiben weiterhin für Studierende geschlossen / MCM and Heribert Meffert Library stay closed for students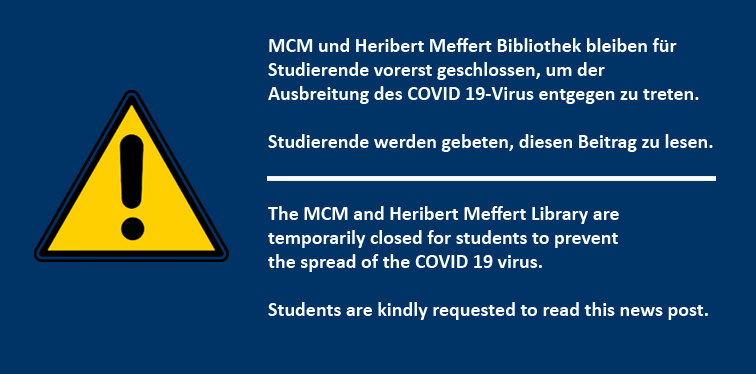 Liebe Studierende und Gäste,
um der weiteren Verbreitung des Corona-Virus auch in der anstehenden vorlesungsfreien Zeit entgegen zu treten, hat sich das MCM entschlossen, weiterhin die Betreuung von Studierenden vollständig auf digitalem Wege durchzuführen. Vor dem Hintergrund der aktuellen Gesundheits- und Hygienevorschriften bleiben das MCM-Gebäude und auch die Heribert Meffert-Bibliothek bis zum 30. September 2020 geschlossen. Zugang zu den Gebäuden haben - wie bisher auch - Mitarbeiter inkl. studentischen Hilfskräften. Bitte kontaktieren Sie bei konkreten Anliegen die Sekretariate bzw. ihre jeweilige Betreuerin oder ihren jeweiligen Betreuer telefonisch oder per E-Mail. Weitere Informationen finden Sie zudem in der Rubrik Corona FAQs der MCM-Website.
Die Lehrveranstaltungen des Wintersemesters beginnen regulär zum Beginn der Vorlesungszeit am 02. November 2020.
Wir möchten Ihnen versichern, dass wir alles dafür tun und uns dafür einsetzen, dass Ihnen und Ihrem Studium aus der schwierigen Situation auch weiterhin keine Nachteile entstehen. Wir stimmen uns dabei stets eng mit anderen Universitätseinrichtungen wie dem Prüfungsamt ab. Wir danken Ihnen ausdrücklich für Ihre Unterstützung in diesen besonderen Zeiten!
Wir wünschen Ihnen, dass Sie und Ihre Familien gesund durch diese schwierigen Zeiten kommen und freuen uns darauf, Sie zum Wintersemester wieder zusehen!
Ihr Team des Marketing Center Münster
---
Dear students and guests,
In order to prevent the further spread of the Corona virus also during the Summer break, the MCM has decided to further remain our student services and interactions fully into the digital realm.  To address the current security and hygiene requirements, we will keep the MCM building as well as the Heribert Meffert Library closed until September 30, 2020. In case of any inquiries, please contact the secretary's office or your respective supervisor via telephone or e-mail. Please also check our Corona FAQs on our homepage for further information.
Courses of the Winter term will begin on Nov 2, 2020.
We would like to assure you that we will continue doing everything we can to ensure that you and your studies do not suffer from the difficult, and unique, situation. We also coordinate closely with other university institutions such as the Examination Office. We are grateful for your support in these special times!
We wish you and your families a healthy journey through these difficult times and hope to see you again in the Winter term!
Your team from the Marketing Center Münster