MCM und Heribert Meffert Bibliothek vorerst für Studierende geschlossen / MCM and Heribert Meffert Library temporarily closed for students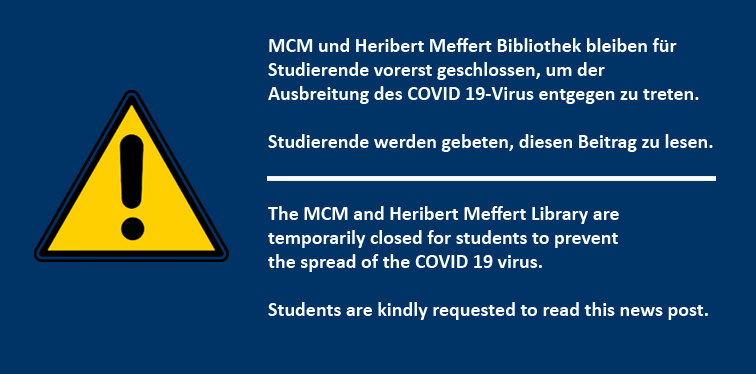 Werte Studierende,
um der weiteren Verbreitung des COVID19-Virus entgegen zu treten, hat sich das MCM entschlossen, ab sofort und bis auf Weiteres die Betreuung von Studierenden vollständig auf digitalem Wege durchzuführen. Dies betrifft Abschlussarbeiten ebenso wie Lehrveranstaltungen. Bitte kontaktieren Sie im konkreten Fall die Sekretariate bzw. die jeweilige Betreuerin oder den jeweiligen Betreuer. 
Die Heribert Meffert Bibliothek bleibt wie alle anderen Bibliotheken der Universität und der Stadt geschlossen. Bitte weichen Sie soweit möglich auf unsere digitalen Angebote aus. Aktuelle Hinweise zu Öffnungszeiten finden Sie auf der HMB Website.
Die Lehrveranstaltungen beginnen am MCM in diesem Semester entsprechend der Vorgabe des Rektorats (vom 13.03.2020) erst am 20. April 2020. Wir arbeiten mit Hochdruck an digitalen Lösungen für den Fall, dass auch zu diesem Zeitpunkt noch keine Präsenzveranstaltungen möglich sein sollten.
Wir möchten Ihnen versichern, dass wir alles dafür tun und uns dafür einsetzen, dass Ihnen und Ihrem Studium aus der schwierigen Situation keine Nachteile entstehen. Wir stimmen uns dabei auch eng mit anderen Universitätseinrichtungen wie dem Prüfungsamt ab. 
Wir werden Sie umgehend informieren, sollte sich die Lage ändern und hoffentlich bessern. Wir wünschen Ihnen, dass Sie und Ihre Familien gesund durch diese schwierigen Zeiten kommen und hoffen, Sie demnächst wieder persönlich am MCM begrüßen zu können!
Ihr Team des Marketing Center Münster
---
Dear students of the Marketing Center Münster,
In order to prevent the further spread of the COVID19 virus, the MCM has decided to move our student services and interactions fully into the digital realm. With immediate effect, we will thus provide all student services via digital media, without exception. This applies to bachelor and master theses as well as lectures, seminars, and other courses. If you are currently writing your thesis at the MCM, please contact the secretary's office or the respective supervisor via telephone or email for detailed information.
The Heribert Meffert library, like all other libraries at the university and the city, will remain closed. Please make use of our extensive digital offers as far as possible. Current information on opening times can be found on the HMB website.
The courses at the MCM will not start until April 20, 2020, in accordance with the university's ruling (from March 13, 2020). We are working intensively on digital solutions in case that no face-to-face events will be possible at this point in time.
We would like to assure you that we will do everything we can to ensure that you and your studies do not suffer from the difficult, and unique, situation. We also coordinate closely with other university institutions such as the Examination Office.
We will inform you immediately should the situation change and hopefully improve. We wish you and your families a healthy journey through these difficult times and hope to see you again personally at the MCM in the near future!
Your team from the Marketing Center Münster