MCM und Heribert Meffert-Bibliothek bleiben weiterhin für Studierende geschlossen / MCM and Heribert Meffert Library stay closed for students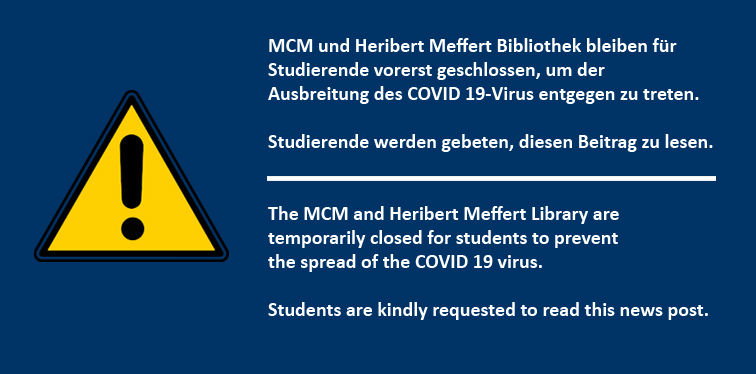 Liebe Studierende und Gäste,
um der Verbreitung des Corona-Virus auch in den kommenden Wochen bestmöglich entgegentreten zu können, hat sich das MCM dazu entschlossen, das Center-Gebäude wie auch die Heribert Meffert-Bibliothek weiterhin für Nicht-Universitätsangehörige geschlossen zu halten. Zugang zu den Gebäuden haben wie bisher ausschließlich Mitarbeiter*innen des MCM (inkl. der studentischen Hilfskräfte).
Die Betreuung der Studierenden wird weiterhin auf digitalem Wege sichergestellt. Präsenztermine können nach vorheriger Absprache und sorgfältiger Abwägung erfolgen, sofern die Einhaltung der Gesundheits- und Hygienevorschriften gewährleistet ist. Bitte kontaktieren Sie bei konkreten Anliegen die Sekretariate bzw. Ihre jeweilige Betreuerin oder Ihren jeweiligen Betreuer telefonisch oder per E-Mail.
Die Lehrveranstaltungen des Sommersemesters enden am 23. Juli 2021.
Weitere Informationen finden Sie zudem in der Rubrik Corona FAQs der MCM-Website.
Wir möchten Ihnen versichern, dass wir auch weiterhin alles dafür tun und uns dafür einsetzen, dass Ihnen und Ihrem Studium aus der schwierigen Situation keine Nachteile entstehen. Wir stimmen uns dabei stets eng mit anderen Universitätseinrichtungen wie dem Prüfungsamt ab. Wir danken Ihnen ausdrücklich für Ihre Kooperation und Unterstützung!
Wir wünschen Ihnen, dass Sie und Ihre Familien diese herausfordernden Zeiten gesund und zuversichtlich meistern.
Ihr Team des Marketing Center Münster
---
Dear students and guests:
In order to prevent the spread of the Corona virus, the Marketing Center building as well as the Heribert Meffert Library will remain closed for the upcoming weeks. We will continue to provide our student services and interactions via digital means. Meetings in presence are possible, but need to be scheduled in advance and carried out in compliance with the current hygiene requirements. Please contact the offices of your respective supervisor via telephone or e-mail, if you want to meet in person. Please also check our Corona FAQs on our homepage for further information.
We assure you that we will continue doing everything we can to prevent any disadvantages for you and your studies from the difficult situation. We also coordinate closely with other university institutions such as the Examination Office. We are grateful for your cooperation and support!
Please stay healthy!
Sincerely,
Your team from the Marketing Center Münster