Marketing Students from Münster Win International Advertising Award!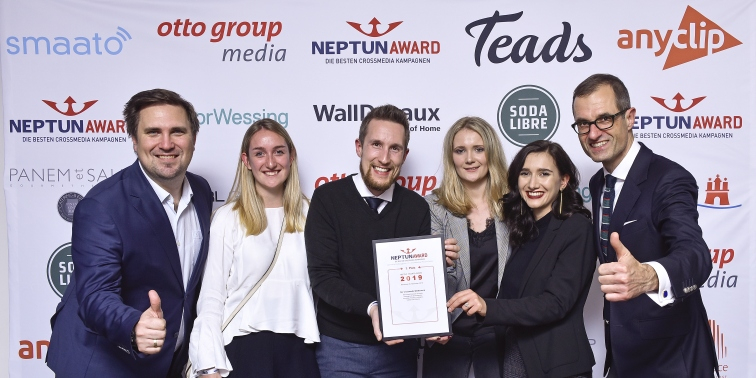 On November 28th 2019, a group of MCM marketing students secured a remarkable third place in the talents category of the prestigious Neptun Cross Media Award in Hamburg. The students had to develop an advertising campaign for the Münster lemonade brand liba as a final project for this summer's "Integrated Marketing Communications" (IMC) class hold by MCM professor Raoul Kübler.
The project turned out to that exciting that the instructor decided to submit the campaign to the international advertising show "Neptun" that awards best multi-channel campaigns each year. With good reason: even though the talents section featured more than 18 excellent international submissions, the Münster students secured at the end a prestigious 3rd place.
"The efforts and performance of our team can not be judged high enough," explains Professor Kübler. "The first two places in this year's award went to submissions from the Miami Ad School. We were the only classic business school in this year's award. All other submissions were similarly based on outstanding creative ideas. However, the jury was especially delighted by the analytical work of our students and how the team translated these research insights into a convincing and creative cross-media campaign that integrated the key message in multiple, different media channels".

The campaign "liba for your city" focuses – based on the extensive marketing research and field studies conducted by the MCM students – on a rather unconvential expansion strategy that targets cities like Essen, Krefeld, Bonn and Wuppertal instead of major metropolises such as Hamburg or Düsseldorf by appealing to local pride and regionalism. Funny headlines such as "Better from the Kiosk than from big enterprises", "Better Ruhr than Rimini" or "Better Burg Linn than Berghain" help the students to catch interest and awareness. Relying on regionalism the campaign further fosters curiosity and drives test-sales for an alternative and sustainable lemonade.
Also liba founder and manager Benjamin Heeke is delighted: "We congratulate the student's team for their big success. We were also fascinated by the many ideas developed by the other teams for our brand during the IMC class. We will now directly contact all students and discuss how we can use the many ideas to better promote our product".
Defne Deneri, Jessy Hauser, Niklas Westernberger, Felix Gößling, and Kevin Goy Ramos also conclude that the many efforts taken for the project were worth it: "It is great to see that all the different theoretical insights and concepts which we encountered during the IMC class were truly helpful to develop a power- and successful campaign, that did not only convince the liba management, but also delighted the leading experts of the international award jury."
You also can watch a short campaign video here: