Raoul Kübler Gives Talk at VU Amsterdam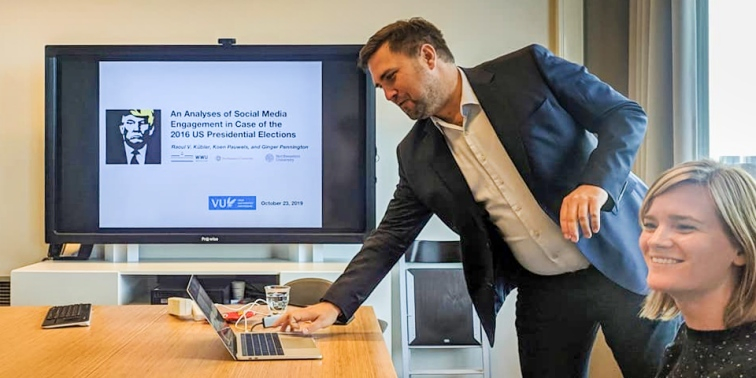 On October 24th 2019, Professor Kübler was invited by VU Amsterdam to give a presentation at VU's prestigious marketing seminar series. During his talk about "An Analysis of Social Media Engagement during the 2016 US presidential elections", Raoul Kübler introduced his latest research findings and enjoyed a fierce but constructive debate.
The presented study is based on a large social media, polls, and donations data set, that Professor Kübler collected together with colleagues Professor Koen Pauwels from Northeastern University, Boston and Professor Ginger Pennington from Northwestern University Chicago. Together the three scholars investigate how social media campaigning, traditional political advertising as well as diverse types of fake news affected public opinion, donations, and engagement during the 2016 presidential race.
"We were lucky to successfully predict the election outcome in 2016 with the help of simple engagement numbers. Since then we all together try to understand why this happened and what drove the success of the Trump campaign", explains Professor Kübler, who just extended the data set with additional social media data from various channels.
The project is now based on more than 20 million data points and gives the team a true challenge. Even though the team faces a lot of obstacles, it is very happy to discover each day new phenomena in the data. "The presentation at VU Amsterdam and especially the most excellent feedback we received from the outstanding marketing group there, is exceptionally helpful! We hope to finish our analyses within this year and will then hopefully be able to submit the manuscript to a leading academic journal" concludes the young MCM scholar.