Doktorandenkolloquium des IfM an der LMU München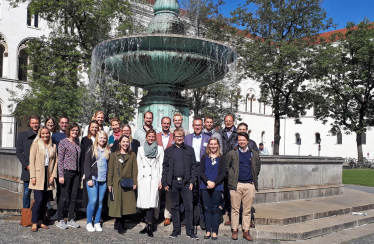 Ende September besuchte das Team des Instituts für Marketing (IfM) um Prof. Krafft das Institut für Marktorientierte Unternehmensführung von Prof. Schwaiger an der Ludwig-Maximilians-Universität München für ein gemeinsames Doktorandenkolloquium. In diesem Rahmen wurden fünf gänzlich unterschiedliche Projekte von Doktoranden beider Institute intensiv diskutiert und weiterentwickelt. Von Seiten des IfM machte Michael Gerke mit seinem Vortrag zum Thema "Predicting direct selling distributors' intent to leave" den Auftakt. Anschließend referiert Jonas Schmidt zum Thema "Reconsidering willingness to pay (as a range)". Zum Abschluss präsentierte Vanessa Steppuhn eines ihrer aktuellen Forschungsprojekte mit dem Titel "Doing well by doing good? Customer perception of CSR activities". Das Doktorandenkolloquium wurde durch ein gemeinsames Abendessen am Vortag sowie ein ausführliches Mittagessen mit den Kollegen der LMU eingerahmt. Dieser gesellige Rahmen bot weitere Möglichkeiten, neue Kontakte zu knüpfen und die präsentierten Projekte in entspannter Atmosphäre zu erörtern.
Nach Beendigung der Zeit in München ging es für das Team des IfM weiter nach Bischofswiesen in die Nähe des Nationalparks Berchtesgaden. Hier wurden einige gemeinsame Tage im Schatten des Watzmanns zur Stärkung des Teamzusammenhalts sowie zur Vorbereitung auf das anstehende Wintersemester verbracht.