Successful Project Seminar: Data-Driven Marketing at Dr. Ing. h.c. F. Porsche AG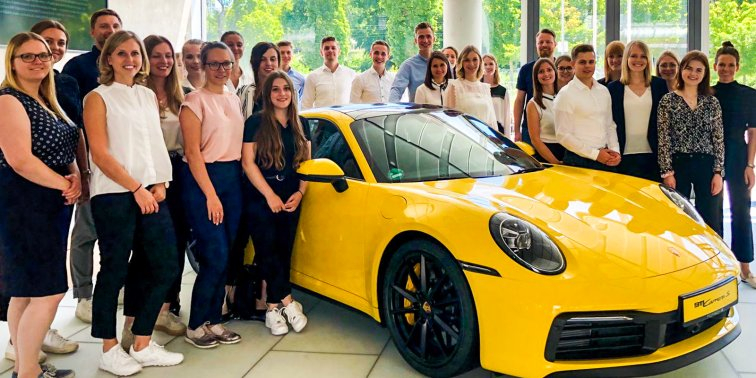 In this year's project seminar offered by the IfM by Dr. Mirja Kroschke in collaboration with Dr. Ing. h.c. F. Porsche AG, 25 master students with a major in marketing had the opportunity to deal with data-driven marketing issues. Under the supervision of both IfM staff and the Porsche digital marketing communication department, the students worked in groups on topics such as "Customer Journey Optimization" and "Online Marketing KPI and Benchmarking Framework".
The seminar started in April with a kick-off event at the MCM. Dr. Stephan Naß from Porsche, who earned his PhD at the IfM in 2011, introduced the audience to the Porsche brand and the role of "Data-Driven Marketing" at Porsche. Later, the student groups met their advisors from Porsche to discuss initial thoughts about the topics assigned. At the end of the day, a joint dinner at the Großer Kiepenkerl restaurant in Münster provided an informal setting for socializing.
After a few very intense weeks, the final presentations at the Porsche headquarter in Stuttgart-Zuffenhausen took place beginning of July. The evening before the presentations, Porsche invited the students to a nice dinner in the city centre, followed by drinks in an urban spot. The next day, the groups presented their results, followed by intense discussions with their Porsche and IfM advisors. Both, IfM members and the Porsche advisors appreciated the high quality of the seminar papers, which create real benefit for the brand and the company. The Porsche advisors particularly appreciated the development of the participants into "experts" in areas initially unknown to them, as well as their systematic approach to solve the practical issues. Following the presentations, former MCM graduates that now work at Porsche shared some very interesting insights about their experiences in the last years. Afterwards, the students learned about Porsche's approach to "Advanced Analytics & Smart Data". At the end of the day, the IfM and Porsche advisors joint the Muenster students on a guided tour through the impressive Porsche Museum.
In summary, this year's seminar not only strengthened the MCM's deep ties with Porsche, but also created lasting impressions for the master students. The Master student Tanja Tissen concludes: "For my group and myself, the project seminar was an experience that went far beyond what we had learned so far: our topic "Audience Strategy" was really exciting and practical, but also highly complex! The Jour-Fixe with the IfM and Porsche advisors encouraged us to approach our questions creatively and solution-oriented. The highlight of the seminar was definitely the final presentation in Stuttgart, where it became clear that Porsche is really interested in our results and intends to incorporate them into current and future projects."