CEM Bayer Business Consulting-Workshop
CEM Students Gain Valuable Insights into the Work of Inhouse Consultants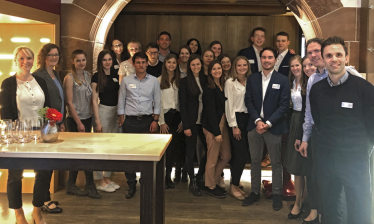 On Friday, May 24, 2019, members of the Circle of Excellence in Marketing (CEM) took part in a workshop at Bayer Business Consulting in Leverkusen. The workshop was organized and conducted by Aline Geick, project manager in the Marketing & Sales department, Tobias Porz, director Marketing & Sales, and former CEM member Henrik Siedentopf, who today works as a consultant in Business Transformation & Change.
After the participants introduced themselves, Tobias Porz and his colleague Simone Hahn from HR explained what it means to work for Bayer Business Consulting and which entry opportunities there are for students and graduates. Moreover, the CEM members learned about the pros and cons of working as a consultant as well as about the peculiarities of inhouse consulting. Afterwards, it was the participants' turn again: Doing PowerPoint karaoke, everyone had to present one slide to the group, which he/she had never seen before. Thereby, the participants trained their improvisation and presentation skills and learned about the importance of catchy action titles and a coherent story line guiding through a presentation. Before lunch, the Bayer consultants provided some more input on project consulting in general and highlighted the role of creativity, problem-solving skills and communication in their daily work. 
The second part of the day started with the consultants presenting their careers at Bayer Business Consulting and giving insights into their current projects. Next, the participants became acquainted with the different steps of the consulting process and the various consulting tools used in the respective phases. Based on a case study, the CEM students were able to put themselves into the position of an inhouse consultant and applied tools such as a deductive logic tree and the pyramid principle to structure a problem and derive recommendations respectively. They presented their results to the group and then discussed the lessons learned from working on the case and with these tools.
A relaxed get together with finger food and drinks completed the workshop. The students engaged in lively discussions with the Bayer employees and used the chance to ask questions that had not been answered throughout the day. The workshop organizers from Bayer Business Consulting as well as the CEM members were very satisfied with the workshop and spoke in high terms of the open, honest and interactive exchange. All in all, the students did not only learn a lot about inhouse consultancy and its tools, but also got to know a lot about Bayer, its employees and their motivations for working there.