CEM Arvato-Workshop: Digital Transformation of Customer Service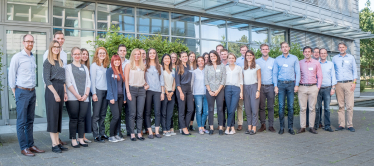 From July 3 to 4, 22 members of the Circle of Excellence in Marketing (CEM) from Berlin, Cologne and Muenster attended a workshop at Arvato Bertelsmann at its headquarters in Guetersloh. The workshop on digital transformation of customer service was hosted and organized by Jiaqing Zhong and Karsten Kraume from the Arvato CRM Solutions division.
After a short round of introductions, the Arvato team provided an overview of the complex and diverse Arvato CRM Solutions business unit. Afterwards, the students visited the Digital Experience Lab of Arvato, a showroom where they gained valuable insights into the multifaceted options of digitization in customer service. The showroom is constantly expanded with new CRM solutions and presents the numerous digital channels and applications in today's customer communication. Subsequently, students learned about career opportunities at Arvato Bertelsmann by listening to the presentation of Arvato's HR team. Immediately after, both Arvato team members and CEM students took part in a "speed dating" session where they discussed open questions regarding the business of Arvato and career entry possibilities. At the end of the first day, all participants met for dinner and drinks at "Die Weberei", a former weaving mill in Guetersloh.
On the second day, participants were introduced to the case study on digital transformation of customer service. In the course of the day, the students developed ideas on the customer journey of the future based on the input they received on the previous day and presented the results to Arvato representatives.
The workshop provided the CEM students with interesting and exciting insights into customer service solutions and a good overview on what it is like to work at Arvato Bertelsmann.
| Malena Wiedemann