CEM Johnson & Johnson-Workshop: Consumer Marketing meets Pharma Marketing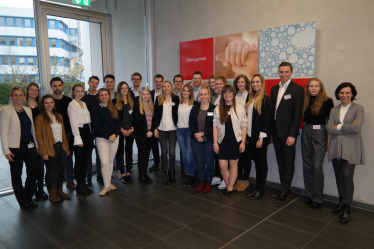 From November 29 to 30, 2017, members of the Circle of Excellence in Marketing (CEM) spent two exciting days at the headquarters of Johnson & Johnson in Neuss. Carola Griesshaber, member of the talent acquisition team organized the workshop and welcomed the participants from Berlin, Cologne and Münster on their arrival.
After a company presentation by Jan Meurer, Area Managing Director Consumer Central Europe, the participants took part in a speed dating. Therein, the students met several employees of various business units with whom they engaged in short and interesting conversations. Moreover, talking to many employees provided the students with an impression how the company culture and working environment is like at Johnson & Johnson. After lunch, Carola Griesshaber introduced the case study "Olynth nasal spray" to the CEM members. Within small groups, the students were asked to develop a marketing strategy that helps "Olynth" to gain increased brand awareness and growing market shares. Each group presented their results which were then discussed and evaluated by several company representatives. Later, Sarah Neitzel, brand manager of "Olynth", illustrated how Johnson & Johnson has solved the case in 2014. At the end of the first day, company representatives and students met for dinner at "Düsseldorf Medienhafen" where participants discussed questions on personal career and business related topics in a relaxed atmosphere.
The second day of the workshop started with the presentation of a "real life case", dealing with the brand "Listerine". Christina Semke and Hanna Pfirmann, brand- and category manager of "Listerine" demonstrated how their marketing strategy in 2016 leveraged "Listerine's" turnover and sales. By positioning "Listerine" in-between toothbrush and toothpaste on shelf, easily reachable on eye level, shopper's buying process has been disrupted and shoppers have become increasingly aware of the product. Afterwards, students supported the Johnson & Johnson HR team with their ideas and expectations for the development of a new pharma marketing trainee program. At the end of the workshop, students learned more about the distinctive characteristics of the pharma division of Johnson & Johnson. Equipped with exciting insights and a self-made advent-calendar for the CEM members, the participants made their way back home.