CEM Kaminabend | American Airlines-Manager Talks about his Top Ten Pieces of Advice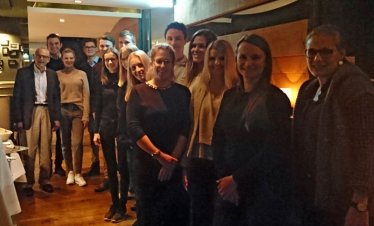 Last week, Dr. Rob Britton visited Münster for a fireside chat with members of the Circle of Excellence in Marketing. Rob Britton is a former managing director in brand development and advertising at American Airlines where he worked for over 23 years in various positions. Today, Rob Britton is the principal of AirLearn Inc., an international consultancy where he focuses on teaching and educating students from renowned business schools around the world.
During the fireside talk, Rob shared his top ten pieces of advice with the participating students and highlighted what he has identified as the most important skills and values in his personal career. Among these characteristics are a reasonable level of intelligence, being able to raise questions and show critical thinking skills, and to have a sound level of curiosity. Furthermore, Rob used the opportunity to talk about some personal stories of his life that the students perceived as very inspiring. The discussion centered around two topics. First, students asked Rob about his ethical view on the role of universal values such as honesty or integrity in business. Second, students were interested on what Rob perceives as important to succeed in the business world these days. After the talk, members of the Circle of Excellence in Marketing used the chance for one-on-one conversations with Rob as well as to talk to their fellow students.