Meet the CEO | Carlo Vassallo (Ferrero Deutschland) zu Gast
Grundlagen des Marketing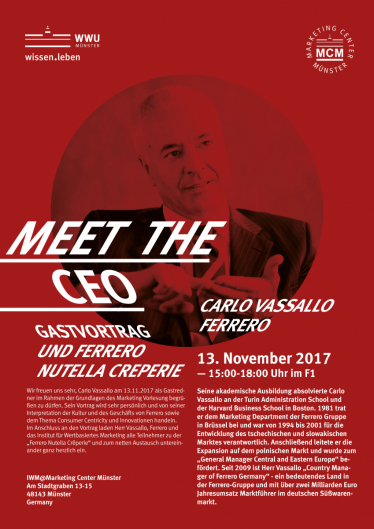 Wir freuen uns sehr, Carlo Vassallo am 13.11.2017 als Gastredner im Rahmen der Grundlagen des Marketing Vorlesung begrüßen zu dürfen. Sein Vortrag wird sehr persönlich von seiner Interpretation der Kultur und des Geschäfts von Ferrero sowie dem Thema Consumer Centricity und Innovationen handeln.
Im Anschluss an den Vortrag laden Herr Vassallo, Ferrero und das Institut für Wertbasiertes Marketing alle Teilnehmer zu der "Ferrero Nutella Crêperie" und zum netten Austausch untereinander ganz herzlich ein.
Seine akademische Ausbildung absolvierte Carlo Vassallo an der Turin Administration School und der Harvard Business School in Boston. 1981 trat er dem Marketing Department der Ferrero Gruppe in Brüssel bei und war von 1994 bis 2001 für die Entwicklung des tschechischen und slowakischen Marktes verantwortlich. Anschließend leitete er die Expansion auf dem polnischen Markt und wurde zum "General Manager Central and Eastern Europe" befördert. Seit 2009 ist Herr Vassallo "Country Manager of Ferrero Germany" - ein bedeutendes Land in der Ferrero-Gruppe und mit über zwei Milliarden Euro Jahresumsatz Marktführer im deutschen Süßwarenmarkt.