VCM Kickstart Weekend vom Venture Club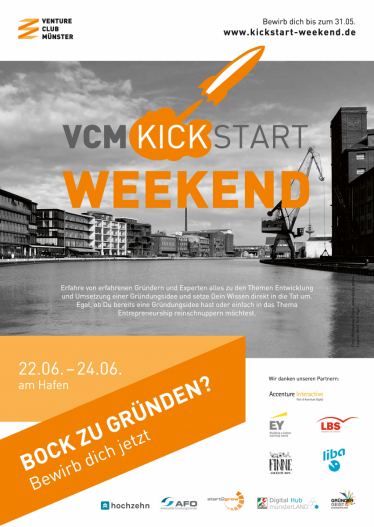 Lust zu gründen oder einfach einmal einen Einblick in das Theme Entrepreneurship zu bekommen? Beim VCM Kickstart Weekend vom 22.-24. Juni erfahren Studierende und Young Professionals alles zu den Themen Entwicklung und Umsetzung einer Gründungsidee.
Als die studentische Inititative für Entrepreneurship in Münster hat der Venture Club Münster e. V. in Zusammenarbeit mit dem Digital Hub münsterLAND erstmalig ein dreitätiges Event-Format auf die Beine gestellt, bei dem erfahrene Gründer und Experten ihren Erfahrungsschatz an die Teilnehmer weitergeben. Unter anderem werden Jan Beckers, WWU-Alumni und "Entrepreneur of the Year", sowie Julian Schneider, Gründer und CEO von Zweitag, aus ihrem Gründungsleben berichten. 
Neben diesen exklusiven Insights erwarten Teilnehmer weitere Kontakte zu Entscheidern aus der Gründungsszene und die Möglichkeit, mit jeder Menge Spaß zu lernen, wie man endlich auf seine eigene (Gründungs-)Idee kommt. Dafür ist es nicht notwendig, vor dem VCM Kickstart Weekend bereits eine Idee zu haben.
Interessierte können sich noch bis zum 31.05. unter www.kickstart-weekend.de bewerben. 
Hier geht´s zum Facebook Event!