MCM offers support to students affected by the war in Ukraine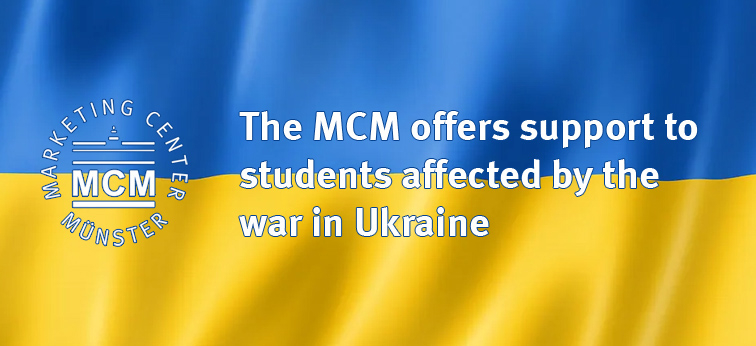 Liebe Studierende,
wir alle sind tief betroffen vom russischen Angriff auf die Ukraine und den weitreichenden Konsequenzen, die der Krieg für die Menschen dort hat. Falls Sie selbst aus der Ukraine stammen oder Verwandte dort haben, melden Sie sich doch bitte bei Christina Okoutsidou. Wir möchten Sie in dieser schweren Zeit gerne unterstützen und würden gerne mit Ihnen besprechen, wie eine Unterstützung durch das MCM sinnvoll aussehen kann.
Herzliche Grüße
Sonja Gensler, Thorsten Hennig-Thurau, Manfred Krafft, Raoul Kübler + MCM-Team
 
---
Dear students,
We are all deeply affected by the Russian assault on Ukraine and the far-reaching consequences the war has for the Ukrainian people. If you are from Ukraine or have family there, please contact Christina Okoutsidou. We would like to support you in this difficult time and would like to discuss with you how we can effectively support you or your families.
Kind regards,
Sonja Gensler, Thorsten Hennig-Thurau, Manfred Krafft, Raoul Kübler + MCM-Team