Can the Metaverse save education? - Join our talk at the Immersive X conference for free!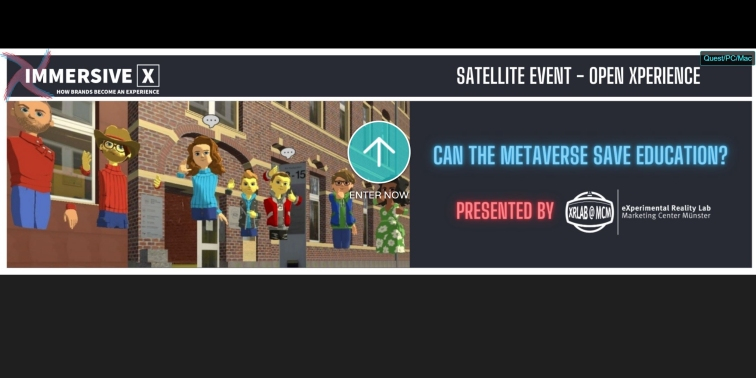 Please join Educators-in-VR Founder Director Daniel Dyboski-Bryant and our XRLab@MCM's Research Executive Nilusha Aliman and Academic Director Professor Thorsten Hennig-Thurau on Thursday when they explore the powers of using VR in education and share their insights on how teaching can benefit from a virtual dimension!
The event will take place in our very own Virtual Marketing Center Münster and is part of the "Immersive X" conference hosted by VM People. The greatest news of all for you: While the conference itself costs 349 Euro, attending our discussion is completely free and open to everyone!
The only thing you need to do is to register at AltspaceVR and create an avatar there. Please note that as this part of the metaverse is owned by Microsoft, you will need a Microsoft account to do so. To register, please follow the link on the AltspaceVR events page in the VR app. You can join our talk via PC using this URL.
The XRLab@MCM has a number of VR devices which can be used by MCM students to attend the event (and explore the Metaverse)! In case you are interested, please contact Nilusha Aliman as soon as possible.
More information about the Immersive X conference can be found here.