Marketing Alumni Vlog | Research at the MCM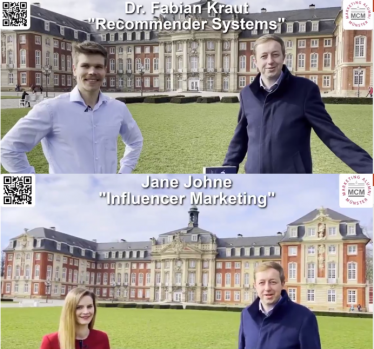 The Marketing Alumni Verein e.V. has launched a series of videos. In short clips of approx. 3-4 minutes, researchers at the MCM share their insights and research results in a short interview.
Marketing Alumni Vlog #1:
Recommendations are part of our everyday lives but even advanced recommender systems like Netflix, Amazon, and YouTube often fail. Dr. Fabian Kraut from Marketing Center Münster shares with Max H. Brüggemann that most systems lack surprise and relevance and how this issue can be addressed with variety and control.
Marketing Alumni Vlog #2:
Influencermarketing has become a huge business on socialmedia. In 2020 brands worldwide spent more than 8bn US dollars on Instagram alone. Jane Johne from Marketing Center Münster and Max H. Brüggemann discuss the relevance of influencer characteristics to achieve different campaign goals and how to choose the right influencer. Choosing the wrong influencer can quickly become costly forbrands as they spend significant amounts of marketing budget for campaigns on TikTok, YouTube, Instagram etc., but neither reach their target group nor their campaign objectives.
Vlog #2 - Influencer Marketing