The Reinvention of Retail – Interview with Professor Krafft in "Die Glocke"
Stationary retailers are increasingly redesigning their stores to differentiate themselves from the competition and appeal to new customer groups. In an interview with "Die Glocke", Professor Krafft explains how traditional retailers successfully transform their stores along the lines of real market halls to better meet changing consumer preferences.
Both the assortment and the store design should support the "weekly market feeling" by emphasizing freshness and regionality of the products. In addition, consumers today value a high-quality of service when shopping for groceries, so retailers are moving to deploy more and better-trained staff at the point of sale. Moreover, successful retailers take consumers' different shopping motivations into account. While atmosphere, lighting, and general store design enhance the shopping experience for consumers who have time on their hands, retail stores should also simply navigation or speed up payment processes for consumers who just want to quickly buy the groceries they need.
In conclusion, Professor Krafft underscores that three proven factors – quality, price, and service – determine the weal and woe of the consumer shopping experience and ultimately lead to the success or failure of retailers in today's world.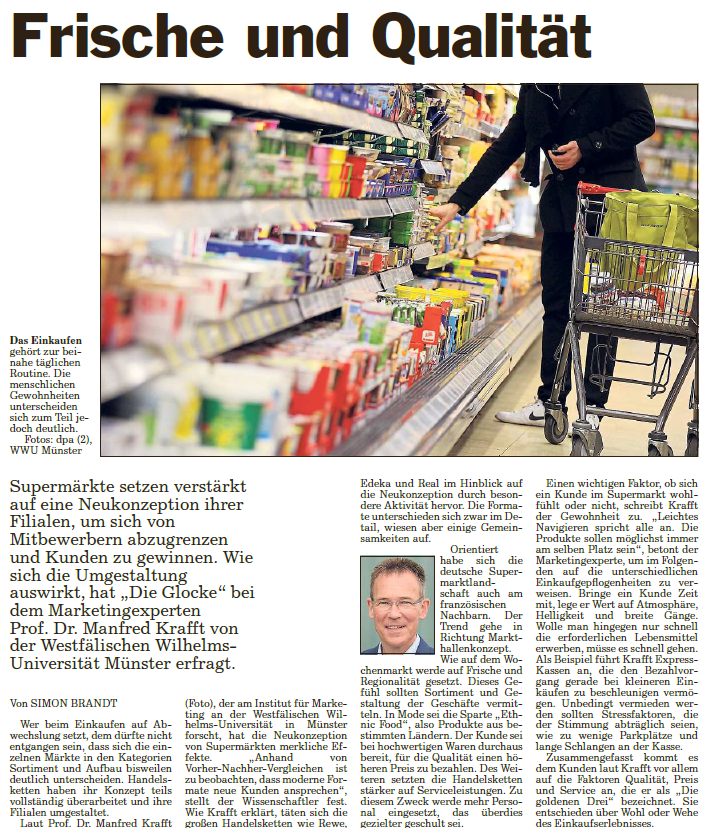 Source: Die Glocke, Saturday, December 19, 2020.