Aktuelle Informationen zu den Lehrveranstaltungen im Sommersemester 2020 / Current information on MCM courses in the summer semester 2020
English version below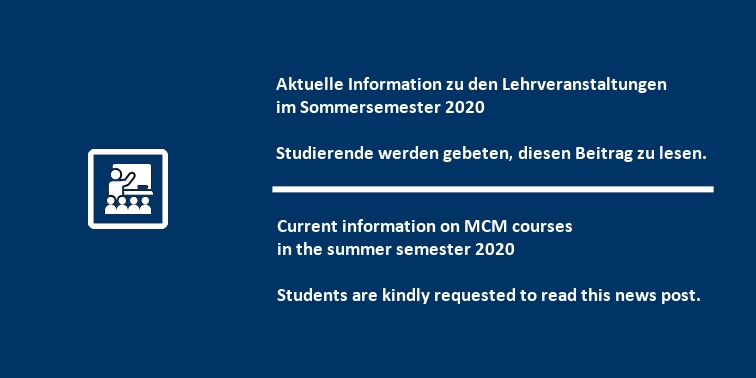 Sehr geehrte Studierende,
alle Veranstaltungen von MCM-Dozentinnen und -Dozenten im Bachelor und Master BWL werden im Sommersemester 2020 in digitaler Form angeboten. Die große Mehrzahl der Veranstaltungen findet zu den im regulären Vorlesungsverzeichnis ausgewiesenen Zeiten als Live-Webinar via Zoom statt. Sie werden hier auf der jeweiligen Learnwebseite der Vorlesung den entsprechenden Einwahllink bekommen. Bitte schreiben Sie sich in die Learnwebkurse ein, um Informationen über die Veranstaltungsformate zu erhalten. Zudem hilft es bei unserer Planung (auch der anstehenden Prüfungen), wenn Sie sich aus Kursen, die Sie nicht belegen möchten, zu Semesterbeginn zeitnah wieder ausschreiben.
Wir arbeiten gegenwärtig mit Hochdruck daran, die Informationen für die einzelnen Vorlesungen zu finalisieren und auf den jeweiligen Veranstaltungswebseiten und im Learnweb einzustellen. Bitte haben Sie dabei ein wenig Geduld; alle Informationen werden rechtzeitig vor Veranstaltungsbeginn zur Verfügung stehen. 
Wir freuen uns auf ein auch für uns etwas anderes, aber hoffentlich nicht minder erfolgreiches Semester mit Ihnen in unseren Veranstaltungen. 
Mit freundlichen Grüßen
Ihr Team des Marketing Center Münster
---
Dear students,
All courses taught by MCM lecturers in the WWU's Bachelor and Master programs will be offered in full digital form in the upcoming summer term 2020. The vast majority of the courses will take place as live webinars via Zoom at the times stated in the regular course catalogue. You will get the respective access link on a course's Learnweb page. Please enroll yourself for a course on the Learnweb platform to get detailed information about lectures and other events, as well as required preparations on your end. Please help us with the planning process (including exams) by unregistering yourself from those courses you do not want to take.
We are currently working hard to finalize the information for the individual lectures. Once this is accomplished, we will post them on the respective course websites and on the Learnweb. Please give us a little time to do so; be assured that all information will be available before the beginning of a course.
We are looking forward to a different, but hopefully no less successful semester with you in our courses. Until then, please take care and stay healthy -- and #stayhome!
With kind regards
Your team of the Marketing Center Münster