CEM Workshop with Porsche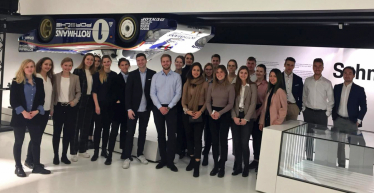 Over 20 members of the Circle of Excellence in Marketing (CEM) took part in the annual CEM Workshop at the headquarter of Porsche in Stuttgart-Zuffenhausen. The two-day workshop, from the January 16 to 17, 2020, was designed to give CEM members a first look behind the scenes of the Porsche AG. The workshop further enabled an exchange of academic and practical insights between marketing students from Berlin, Cologne and Muenster and the Marketing team of Porsche.
The first day of the workshop started with an early departure for everyone and a warm welcome in Stuttgart by Dr. Stephan Naß and Luisa Maisch, both MCM Alumni. The starting point on the agenda was an introduction to the Porsche AG as well as their current marketing strategy and challenges due to trends such as e-mobility, which are fundamentally challenging the automotive industry.
Afterwards, another highlight of the first day marked a guided tour through the Porsche-Museum, where the participants learned a lot about the heritage and milestones of the company. As the company is still strongly driven by their established core values, these insights enabled the students to get an even better feeling for the brand. Equipped with these impressions, the students were provided with their cases dealing with the "MyPorsche" online customer portal, which includes an overview of news, upcoming events, shops and car connect services.
The day ended in the Tin Tin Bar with a delicious menu and a get-together in a pleasant atmosphere with different representatives of the Porsche company.
The second day was mainly dedicated to finding strategic solutions for the provided cases. The students analyzed future usage potentials of "My Porsche" for CRM and marketing purposes as well as future potential connect service ideas, which led to a variety of creative solutions. After the group presentations Dr. Stephan Naß closed with a round of valuable feedback and a winner ceremony. The day ended with an introduction to future career and internship opportunities at Porsche.
Thankful and equipped with great memories of a challenging case, fascinating insights into the history and current development of Porsche, the CEM students travelled back to Berlin, Cologne and Muenster.