CEM Porsche-Workshop: Developing an Effective Strategy for Online Car Sales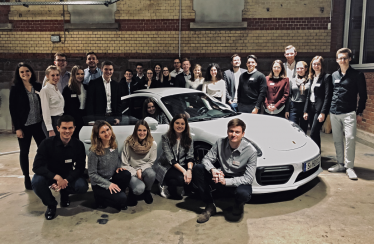 From January 31 to February 1, 25 members of the Circle of Excellence in Marketing (CEM) took part in the fourth CEM Porsche-Workshop in Stuttgart. The two-day workshop enables participants to gain valuable insights into work practices, atmospheres and career opportunities at Porsche.
The first day of this year's workshop started with a warm welcome including an introduction to the company and a presentation on the organization of the marketing department. Afterwards, one highlight of the first day marked a guided tour through the factory of Porsche. "It was a unique experience to get insights into the production of traditional models like the Porsche 911," said Pia Schütte, one of the participating CEM members. In addition, the tour through the Porsche-Museum provided the participants an excellent overview about the history and milestones of the company. Those insights allowed the students to immerse into the world of Porsche and to understand the brand even better. The day ended with a joint dinner and provided the participants not only the chance to get in touch with classics of the "schwäbische" kitchen, but also with further representatives of the Porsche company in a familiar atmosphere.
On the second day, the CEM members worked on a case study about online car sales at Porsche. The students figured out the strengths of online and offline stores, rethought the customer journey of typical Porsche customers and developed a first online communication concept. The company representatives closed the day with valuable input on the students' ideas.
Equipped with great memories of a challenging case, fascinating insights into the history and production site of Porsche, the CEM students traveled back to Berlin, Cologne and Muenster.