MCM students acquire Artificial Intelligence - First Big Data Seminar concludes with important insights for MCM Master Students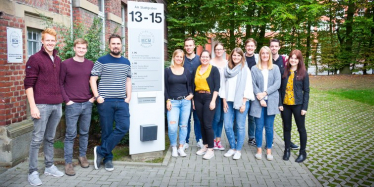 Recent years saw a remarkable increase of interest in the exploitation of large datasets in order to enhance consumer insights. Famous use cases such as Target's ability to identify pregnant shoppers by changes in consumption behavior or micro targeting of voters with the help of user generated content have made the algorithmic evaluation of consumer behavior a state-of-the-art procedure to guide and support purchasing decisions, to select and present relevant content on online platforms, or to develop bespoke advertising campaigns.
A large part of the research and discussion in this field, however, takes place in computer sciences, so that a transfer of knowledge to the field of marketing is still pending. Especially as traditional econometric models have problems coping with the large amount of incoming and available data, methodologies originating from computer sciences such as artificial intelligence and machine learning may bring new advantages for marketers. Nevertheless, marketing has still to learn how these new methodologies work, how they compare to existing tools and how reliability and validity can be ensured.
In a brand new seminar by Jun.-Prof. Raoul Kübler, 12 master students from the MCM had the opportunity to train themselves in the field of Big Data analysis. Right after the introductory session in July 2018, the students started to work on their own seminar papers on real management problems in marketing practice with the help of Big Data sets. In September 2018, all participants successfully presented their results on topics like "Consumer Churn Behavior", "Click Fraud Prediction in Online Advertising" and "Customer Segmentation". All topics were addressed with the help of modern machine learning techniques such as Decision Tree Models, Support Vector Machines, Neural Networks and Naïve Bayes algorithms.
"Future corporate marketing is determined by an increasingly data-driven environment. To master the upcoming challenges in the work of marketing departments our students need to gain a fundamental understanding of such processes and methods", Jun.-Prof. Kübler explained. "All attendees of the seminar made great progress and are now also familiar with sound theory and some of the elementary practical applications. I am especially happy to see that students could develop general insights into when to best use which, approach and to derive suitable benchmark measures, which allow a comparison of the different approaches."
Jun.-Prof. Dr. Raoul Kübler is a leading expert in machine learning and big data analysis, who joined the Marketing Center in July 2018. Before, he was working as an Assistant Professor of Marketing at Özyegin University in Istanbul, Turkey.