CEM Henkel-Workshop: Creativity, Innovation and Sustainability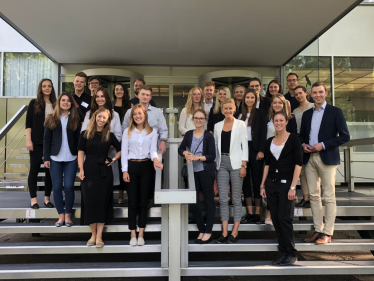 25 students from Free University of Berlin, University of Cologne and University of Muenster participated in this year's Circle of Excellence in Marketing (CEM) Henkel-Workshop, which took place on July 5 at the Henkel headquarters in Dusseldorf. The day started with a welcome note by Jana Mueller, Employer Branding Manager at Henkel. She introduced students to the history, the values and the career opportunities at Henkel.
Subsequently, Lisa Maiweg who works as brand manager at Henkel and is an alumna of the CEM program, presented the home care product WC-Frisch and the corresponding case study. For the case study session, participants teamed up in five groups and had to identify purchase barriers of the product and to find adequate and innovative marketing solutions. Moreover, students were asked to tailor their solutions to selected customer segments.
Before the case preparation, the CEM students visited the Henkel Global Experience Center, an innovation lab with a focus on laundry and home care products, where suppliers and retailers can learn more about Henkel's product portfolio and its proposition to be an innovative, digital and sustainable partner to work with.
In the afternoon, students also had the unique opportunity to see the production process of Henkel's flagship product Persil. The factory tour also included the bottling and packaging process of the detergent. Back in the meeting room, groups presented their results to the jury, which was composed of four brand managers from the laundry and home care division.
At the end of this eventful day, students had the chance to talk to Henkel representatives about their own career opportunities.
Overall, it was a very interesting and exciting workshop, where the CEM students learned more about Henkel's business and being an attractive employer.
| Marie Schwertner