Valuable insights at the International Food Marketing Research Symposium 2018 in Bournemouth/UK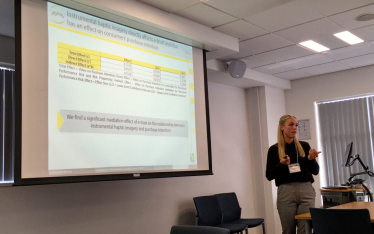 From June 13 to 14, Julian Allendorf, doctoral candidate at the Institute of Marketing (IfM), and Verena Visse, master graduate from University of Muenster participated in the International Food Marketing Research Symposium 2018 in Bournemouth. The conference is a dedicated, regular forum where academic food marketers can meet to present their research in various stages of development (from working papers to completed papers) to advance the discipline of academic food marketing. This year's conference was co-chaired by Mark Lang (Saint Joseph's University, Philadelphia, USA) and Juliet Memery (Bournemouth University). Besides internationally renowned leading researchers in the field of food marketing, several doctoral candidates and master graduates were among the 60 participants.
On the second conference day, Verena Visse presented a study in the student track which especially invites master graduates to present their work. The study titled "E-commerce is booming? – Not for groceries!" is joint research with Julian Allendorf who also served as supervisor for the master thesis. It investigates how perceived risk related to online grocery shopping can be mitigated and presents effective measures for online retailers to implement. The presentation was very well received by the audience who also provided valuable feedback on the presented research study.