MCM researchers at the Academy of Marketing Science Conference in New Orleans/USA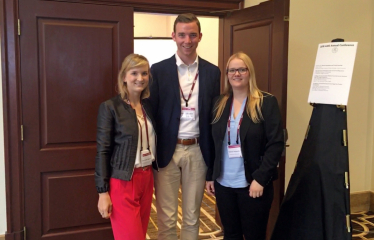 From May 23 to 25, Julian Allendorf, Agnes Sophie Roggentin and Vanessa Steppuhn, all doctoral candidates at the Institute of Marketing (IfM), participated in the Academy of Marketing Science Annual Conference in New Orleans. The conference on the theme "Boundary Blurred: A Seamless Customer Experience in Virtual and Real Spaces" was co-chaired by Monika Kukar-Kinney (University of Richmond) and Lan Xia (Bentley University). Besides internationally renowned leading researchers in the field of marketing strategy, consumer behavior and quantitative modeling, several postdoctoral researchers and doctoral candidates were among the 300 participants.
On the first conference day, Julian Allendorf presented a study in the track "Sensory Aspects of Retailing". The study which is joint research with Manfred Krafft and Mirja Kroschke, investigates how music and light affect shoppers' in-store behavior. On Friday morning  Vanessa Steppuhn presented her study on "Ethical Labeling – How Retailers Can Increase their Brand and Store Image by Selling Ethical Labeled Private Label Products" and discussed the relevance of ethical labels on private label products. Her project addresses the positive effects of organic and fair-trade labels for products, store and brand. In the afternoon of the final conference day, Agnes Sophie Roggentin presented her research in the track "Managing the Customer Journey and Shopper Experience". She talked about innovations in retail business models using the example of adding bricks to clicks retailers. Her research investigates how adding an offline channel to an existing online channel affects customers' purchase intention.
All talks were well received by the audience who also provided valuable feedback on the presented research studies by the doctoral candidates.