CEM Bayer Business Consulting-Workshop: Exciting Insights into Everyday Life of an Inhouse Consultant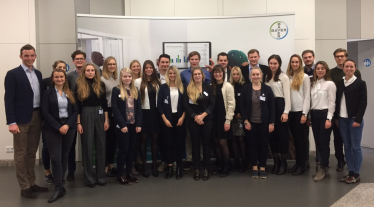 From November 23 to 24, 2017, members of the Circle of Excellence in Marketing (CEM) attended a workshop at Bayer Business Consulting (BC) in Leverkusen. Flora Spannagel, who is a project manager at Bayer BC, has organized the workshop on behalf of the marketing & sales practice.
After a short round of introductions, the workshop participants discussed Bayer's current theme called "leaps". On the one hand, "leaps" stands for pioneering innovations in the field of life science at Bayer. On the other hand, "leaps" occur regularly in the daily routine of consultants and describe the challenges that have to be resolved as an inhouse consultant. In the course of the conversation, each participant presented his personal leap and its learnings. Before lunch, the workshop participants gained insights into the planning and implementation of a consulting project and were able to apply the various consulting tools based on a case study. At this stage, groups presented their results and together worked out the lessons learned from the individual sections of the case study.
In the evening, the participants took part in a guided tour at the BayArena, home of the football club Bayer 04 Leverkusen which play in the German Bundesliga. Afterwards, the students met up with numerous employees of Bayer and Bayer BC for a joint dinner. In a relaxed atmosphere, there was a lively exchange where students used the great opportunity to raise all their questions that they brought to the workshop and which were coming up during the first day.
The second workshop day started with an exercise on delivering an "Elevator Pitch" before the participants continued working on the second part of the case study. Before lunch, the CEM students took the chance to meet up with Dr. Thomas Pascoletti, who leads the marketing & sales practice at Bayer BC, to talk about a wide range of topics related to consultancy. At the end of the workshop, a presentation of entry-level opportunities at Bayer BC completed the workshop. The participating CEM members were very satisfied spending two days at Bayer. Not only have they learned a lot about an inhouse consultancy and its tools, but also about a successful company and what drives people working at Bayer in their professional life.