Julian Allendorf referiert auf dem 12. Kongress für Dialogmarketing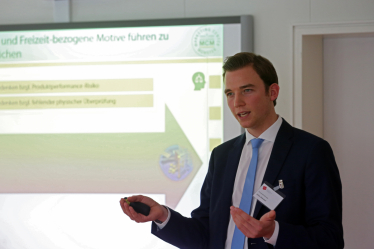 IfM-Mitarbeiter Julian Allendorf stellte auf dem 12. wissenschaftlichen interdisziplinären Kongress für Dialogmarketing am 27. September 2017 in Kassel die Studie "Warenkorb-Abbrüche im Onlinehandel – Warum Shopper nicht zu Käufern werden und wie Unternehmen reagieren können" den Kongressteilnehmern vor. Gemeinsam mit Professor Manfred Krafft und Mirja Bues untersucht er "Warenkorbabbrüche", bei denen der Kunde im Onlineshop bereits Produkte ausgewählt und in den virtuellen Warenkorb gelegt hat, dann aber den Kaufprozess nicht abschließt. Zwei Fragen stehen dabei im Vordergrund des Forschungsinteresses: Warum brechen User den Kaufvorgang ab? Und wie können Unternehmen hier gegensteuern? Bei der 12. Auflage der vom Deutschen Dialogmarketing Verband e.V. (DDV) ausgerichteten Veranstaltung referierten Wissenschaftler unterschiedlicher Fachrichtungen (neben Betriebswirtschaftlern ein Jurist und ein Ingenieur). Ein Moderatorenduo aus Praktiker (Dr. Markus Gräßler, Managing Director der gkk DialogGroup) und Wissenschaftler (Prof. Dr. Ralf T. Kreutzer, Berlin School of Economics and Law) führte kenntnis- und abwechslungsreich durch die Veranstaltung.
Ein ausführlicher Bericht ist auf den Seiten des DDV zu finden.