Personal Retargeting in Practice. A Guest Lecture on E-Commerce by Criteo's Managing Director for the German language area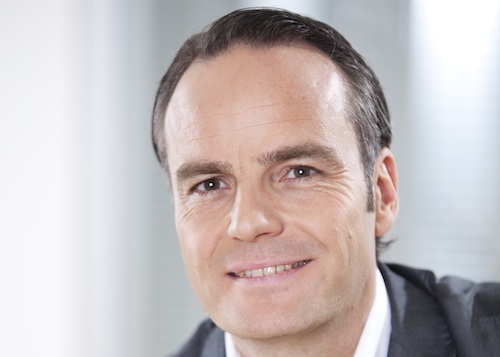 Almost everyone who has visited an online shop is familiar with online advertising. As one travels through the vast expanses of the Internet, one is constantly reminded of the products one has looked at in various online shops. The odds are that Criteo is behind the technique that makes this possible.
Criteo describes itself as the inventor of what is known as personal retargeting. The company boasts approximately 6,000 customers and is the biggest buyer of Google advertising space.
On 24 October 2014 Alexander Gösswein, Criteo's managing director for the German language area, delivered a guest lecture at the Institute for Value-Based Marketing. The lecture, which was intended for master's students, was part of a course devoted to e-commerce. The students were treated to a look behind the scenes of an advertising company and afforded an opportunity to clarify open questions.
Speaking with great force and vivacity, Gösswein explained how personal retargeting works. The system is based on a sophisticated algorithm. Over 100 variables are used in order to optimise banner campaigns. The data are processed by more than 10,000 internal servers. Criteo is allotted a six millisecond time slot in which to place an advert and design a personalised banner. Owing to the use of special algorithms, no two banners are alike.
Gösswein initially described the topic of his lecture as somewhat dull and boring, yet the subject of data protection sparked a lively discussion with the students.
Towards the end of his lecture Gösswein discussed the problems posed by data integration via different terminals.  Personalised banners are to be used to target consumers even more purposefully via different terminals.
---
Questions and Answers (presented on transparencies, not direct quotes)
Q: What qualities do you expect a marketer to possess?
A: In view of the exponential increase in the quantities of data that have to be handled, Gösswein stresses the importance of a modern marketer's capacity to extract meaningful information from the data at his disposal. Alluding to the American television series Mad Men, which revolves around a creative team working in the advertising industry, he says: 'Mad men became math men,' The importance of technical and mathematical competence is mirrored in the high percentage of engineers (40% of the staff) employed by Criteo.
Q: What are the challenges faced by marketing specialists in your branch, and what trends have you observed?
Gösswein considers cross device marketing as a major challenge for the personal retargeting branch. Nowadays the average internet user has three different terminals. Gösswein describes a scenario where the user begins his search for a product on a desktop computer, then grabs his telephone and receives an advertising banner corresponding to the search he has just run on his computer. Broadly speaking, an advertising company's success will depend on the extent to which the firm can cope with the fact that complexity has become the norm.
---
Biographical Details
Alexander Gösswein has been Criteo's managing director for Central Europe since April 2012. Before taking over this post he was the sales director of Criteo's marketing company in the German language area and Eastern Europe. He has over 14 years experience in the marketing and media branch. In the past seven years he has occupied top posts at Yahoo (Overture) and Microsoft Advertising. Before switching to Criteo, he built up goviral in Germany. In January 2011 goviral was taken over by AOL Europe.