Guest Lecture by Mondelēz International
Brand Management | June 13th, 2022
Strategic Brand Positioning at Mondelēz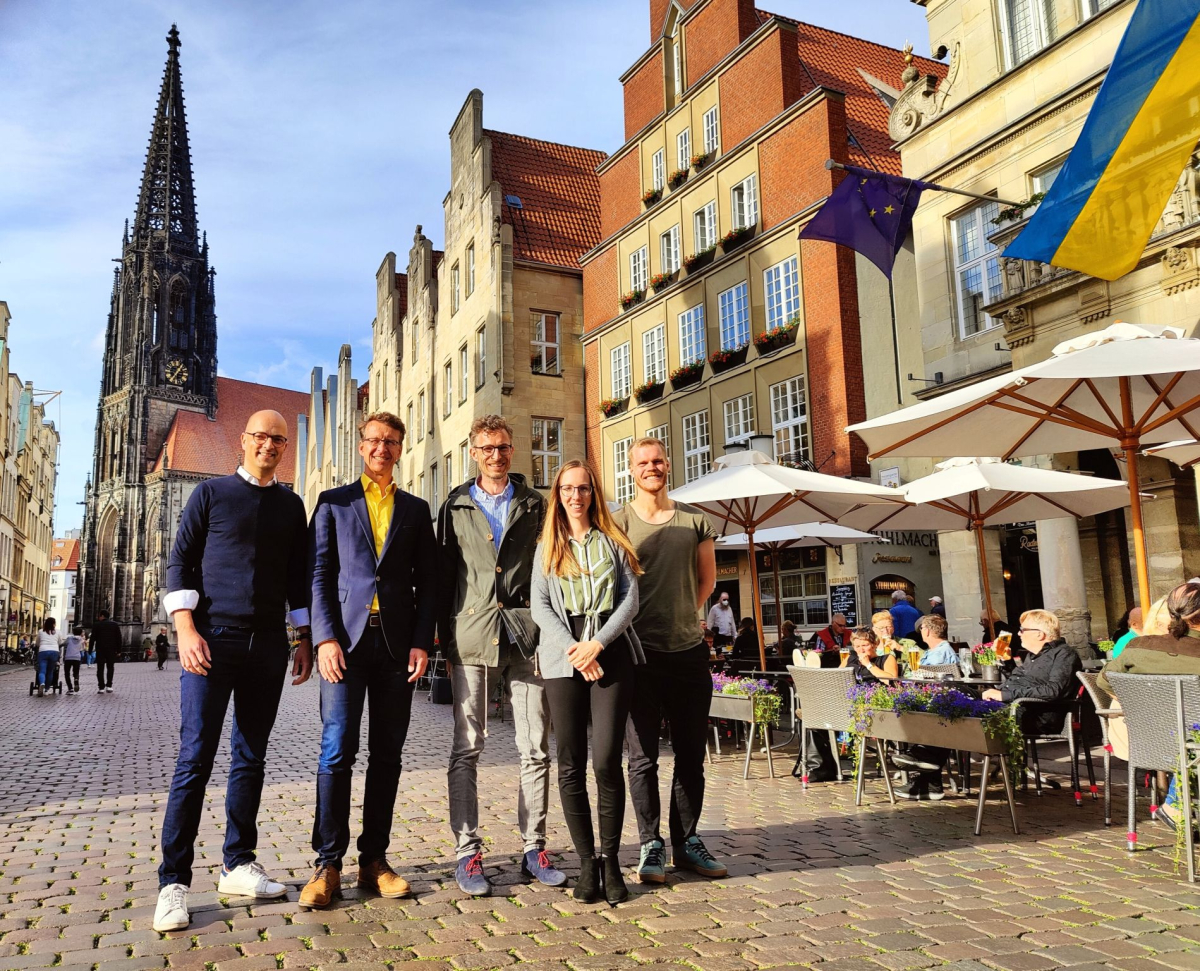 From left: Jan Trichterborn (Marketing Director Bakery DACH at Mondelēz International), Professor Hennig-Thurau (LMM), Per Lasse Küpper(Senior Marketing Lead Bundesliga Partnership at Mondelēz International), Insa Weber (Brand Manager at Mondelēz International) and David Jütte (LMM)
As part of this year's Brand Management course, lectured by Professor Dr. Thorsten Hennig-Thurau, Mondelēz International was invited to the Chair of Marketing and Media to provide practical insights into strategic brand management and their specific approach to successful brand positioning.
Mondelēz International is one of the largest snack companies in the world with global net revenues of approximately $28.7 billion in 2021. They hold the #1 global position in biscuits (cookies and crackers) and #2 in chocolate. Their brand portfolio includes iconic global and local brands such as Oreo, belVita and LU biscuits; Cadbury Dairy Milk, Milka and Toblerone chocolate; Sour Patch Kids candy and Trident gum. Mondelēz International has operations in more than 80 countries and employ around 80,000 people in their factories, offices, research & development facilities and distribution activities around the world. Making it a one of the biggest and most well-known employers in the "snack industry".
Jan Trichterborn, the Marketing Director Bakery at Mondelēz International, opened the guest lecture with an engaging discussion on Mondelēz general approach on branding their products in a way to "empower people to snack right". Shedding light on the role of responsible branding- and targeting strategies at Mondelēz. Herein stressing that they only direct their marketing efforts at self-reliant grownups in an effort to prevent children from indulge in snacks to excessively. After this introductory talk on more general branding strategies he provided a deep dive into Mondelēz branding strategy with the well-known "Milka" brand. Jan extensively presented intertwined marketing campaigns, the overarching storytelling approach as well as Milka's most relevant brand claim of "tenderness".
For the second part of the guest-lecture Per Lasse Küpper, Senior Marketing Lead Bundesliga Partnership at Mondelēz International, took over and engaged in the topic of brand alliances and strategic cooperation. Thereby he presented hands-on insights on the challenges of partnering up with other brands and consumer responses to such alliances. The guest lecture was concluded by our former student assistant Insa Weber who just finished her three-year talent program at Mondelēz and is now working in category management, giving a short overview on entry positions and carrier paths at Mondelēz. After the official part of the guest lecture, the attending brand management students made use of the opportunity to have informal chats with our guests and explored Mondelēz world of snacks and marketing a bit further.