Guest Lecture by Mars GmbH
Sales Management | November 30th, 2018
Omnichannel-Management in the FMCG Industry | Mars GmbH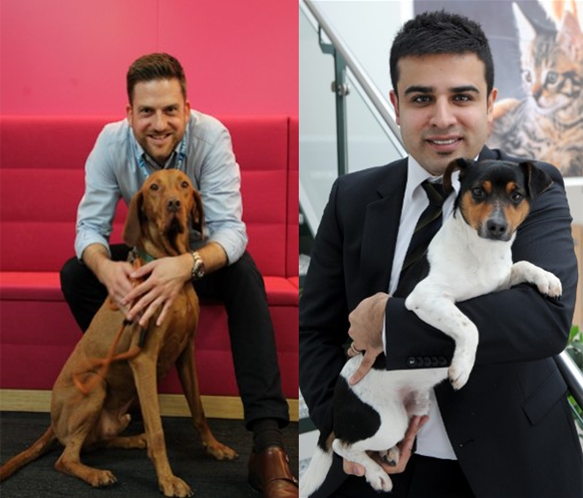 Marcel Hahne (Customer Business Director, Mars Petcare) and Nexan Chopra (E-Commerce Leader Germany)
At the end of November, Mars visited the Marketing Center Muenster for a guest lecture in the Sales Management course. In their interactive presentation, Nexan Chopra, E-Commerce Leader Germany and Marcel Hahne, Customer Business Director for Mars Petcare, talked about e-commerce and omnichannel-management at Mars.
The first part of the talk dealt with Mars' development from a small family business to an independent global corporation. Most popular brands in Germany include m&m's, Snickers, Wrigley's and Pedigree. Although the share of online trade in Germany is still very small, sales organizations must react quickly to meet the needs of the generation "digital natives". In the FMCG sector, and especially in the petcare market, online sales is expected to gain a substantial market share in the future. Thereby, German companies can massively learn and benefit from pioneers like Amazon and Alibaba.
Subsequently, the Mars representatives discussed with the students how Mars is adapting its sales organization to changing distribution channels by simultaneously maintaining its agility. Based on theoretical concepts and key principles such as market segmentation, the group defined segment-specific activities as well as the design and coordination of the individual channels. In particular, Mars is not only reacting to trends such as cross-channel and click & mortar, but is actively promoting the latter through advanced market analysis and close cooperation with partners such as Amazon and Payback. At the end of the successful guest lecture, participants were also provided exciting insights to the wide-ranging career opportunities at Mars.
After the guest lecture, Mars invited the students of the Sales Management course for a "Meet & Greet" at the Marketing Center Muenster. Marcel Hahne and Nexan Chopra shared personal insights from their daily work experience at Mars. The participating students also used the opportunity to ask questions on career planning and to get in touch with Professor Krafft and members of the Chair of Marketing Management. We thank Marcel Hahne and Nexan Chopra for this well-spent and highly inspirational morning!