Guest Lecture by Mars GmbH
Sales Management | December 1st, 2017
Omnichannel-Management in the FMCG Industry | Mars GmbH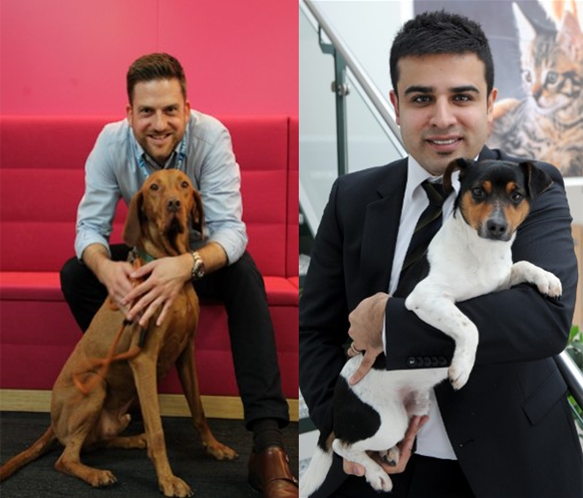 Marcel Hahne (Customer Business Director, Mars Petcare) and Nexan Chopra (E-Commerce Leader Germany)
At the end of the second week of the course Sales Management, the first guest lecture from Mars successfully combined theory and practice. Marcel Hahne, Customer Business Director and Nexan Chopra, E-Commerce Director Germany from Mars Petcare gave an interesting talk about "E-Commerce and Omnichannel-Management" at Mars.
At the beginning of the lecture, they provided a brief overview of the founding story of the Mars company. Originally started as a family business, Mars now employs associates in 73 countries and manages products in five different business segments. Well-known brands in Germany include for example m&m's, Snickers, Wrigley's and whiska's.
In today's fast changing environment, e-commerce plays an increasing role for retailers and becomes more and more relevant for Mars Petcare. The volume of the online retail market is continuously growing, but with declining growth rates. Therefore, Nexan Chopra highlighted the sales potential in Fast Moving Consumer Goods (FMCG), particularly petcare products, as the penetration in this segment is still relatively low. Hence, Mars expects petcare to be one of the main drivers of future growth in the FMCG segment. As the number of physical stores is decreasing and all age and income classes are shopping already online, e-commerce plays an important role in the omni-channel management at Mars.
During the lecture, Marcel Hahne used a theoretical framework from the sales management course and applied it to the content of the guest lecture. He presented four characteristic steps for defining a channel strategy by approaches from Mars and allowed the students to connect theory with practice. For example, he explained the distributor portfolio analysis in detail which serves as a basis for further decisions regarding the allocation of resources and the channel design at Mars. Hahne continued with explaining why Mars follows an omni-channel strategy to reach consumers both offline and online. Together with Nexan Chopra, he presented five theses to support the omni-channel strategy:
70 % of all traditional retailers will reinvent themselves or vanish
90 % of the pure online retailers will not survive
Thinking in channels was yesterday, multi-touchpoint-management is tomorrow
Flexible, relevant and entertaining formats along the customer journey will determine the future
Strong brands dominate the market
In order to be prepared for the future, Mars divides the market into five different channels and has developed a playbook for each channel which specifies characteristics and handling of these channels. Moreover, responsibility is shared across teams at Mars to share knowledge and ensure a multi-channel experience.
At the end of the guest lecture, Sebastian Weiss, Employer Reputation Specialist provided the students with an overview about entry opportunities at Mars. After the guest lecture, students used the opportunity to get in touch with the company representatives at an informal get together at the Marketing Center Münster.