Guest Lecture by Henkel
Consumer Behavior | November 5th, 2019
Shopper Meets Consumer – Henkel's Way Into an Insight Driven Culture | Henkel Beauty Care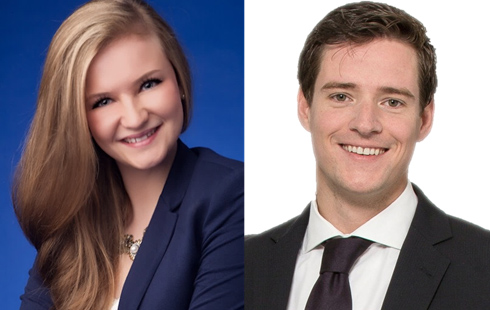 Laura Lorch (Jr. Category Manager – Henkel Beauty Care) and Peter Reichmann (Head of Category Insight Management – Henkel Beauty Care)
Yet again, Henkel visited the lecture "Consumer Behavior" and demonstrated how the theoretical fundamentals taught in the lecture are applied in practice. Laura Lorch and Peter Reichmann (Category Insight Management at Henkel Beauty Care) offered fascinating insights in their talk entitled "Shopper Meets Consumer – Henkel's Way Into an Insight Driven Culture".
Ms. Lorch presented the development of the company and familiarized the students with Henkel's 140-year success history. Based on strong brands, innovative products and latest technologies, Henkel occupies leading market positions in three business segments – adhesive technologies, beauty care and laundry & home care. Nowadays, Henkel employs 53,000 employees in more than 75 countries. Driven by a strong corporate culture, a joint business object and shared values, Henkel enjoys a high reputation among students.
The students got to know an eight-stage process, which builds the foundation for Henkel's Category Management activities. Hereon, Ms. Lorch discussed current business challenges and used two case studies to explain how Henkel deals with them in detail.
In the end, Henkel presented interesting internship opportunities and invited all students to an informal exchange. Multiple students used this opportunity to network and ask questions.
The chair of marketing management would like to sincerely thank Henkel for the successful cooperation, which once again enabled the invitation of international guest speakers. We are looking forward to keep the mutual exchange vibrant and hope to welcome Henkel again next year.