Event | marketing&media*talk with Dr. Malte Probst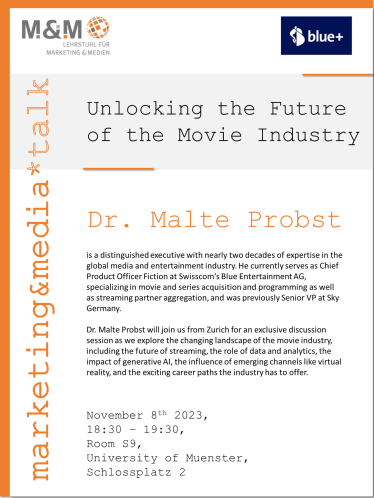 Unlocking the Future of the Movie Industry – 08.11.2023
Join the Chair of Marketing & Media at the upcoming marketing&media*talk for an exciting discussion on the future of the movie industry with renowned and analytically minded industry expert Dr. Malte Probst!
Formerly Senior VP at Sky Germany, overseeing the Sky Film and Entertainment portfolio, Dr. Probst now serves as the Chief Product Officer Fiction at Swisscom's blue Entertainment AG, specializing not only in movie and series acquisition and programming as well as streaming partner aggregation, but also operating the largest cinema chain in German-speaking Switzerland.
Dr. Probst will discuss implications of the ongoing fragmentation of streaming services as well as the use and impact of data. He will also provide exclusive insights into emerging trends and innovations that are shaking up the whole industry - from the impact of generative AI on content creation to the disruptive potential of virtual reality.
We invite all students who are interested in discussing and navigating the changing movie landscape to come to the Schloss (Schlossplatz 2, room S9) of the University of Münster on 08.11.23 starting at 18:30.
Please note that while this event is associated with Dr. Ronny Behrens' master's course "Entertainment Media Marketing," all interested master students are welcome to attend, and no registration is required.