Nilusha Aliman from XRLab@MCM stars in the PwC 'TechTalks' series hosted by thought leader Jeremy Dalton!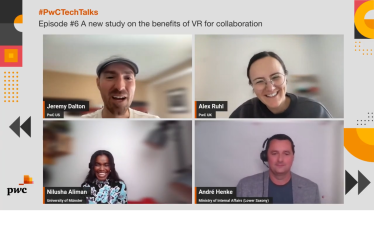 On Thursday, October 19, Nilusha Aliman from the MCM's eXperimental Reality Lab (XRLab@MCM) participated in PwC's global 'TechTalks' series, hosted by Jeremy Dalton, well-known thought leader and book author on immersive technologies along with fellow PwC XR expert Alex Ruhl, to present findings from the lab's recently published working paper on meetings in the metaverse. On average, the 30-minutes episodes of the video podcast series reach an audience between 5,000 and 10.000 viewers.
At the podcast, Nilusha Aliman discussed a new study she has conducted and co-authored with Professor Thorsten Hennig-Thurau and André Henke from the German Ministry of the Interior and Sport of the German State of Lower Saxony. The goal of the study was to shed light on the value of team meetings carried out in virtual reality by comparing them with videoconferences. The results are available as a new working paper from the XRLab@MCM entitled "Meetings in the Enterprise Metaverse: How Virtual Reality Affects Scaled Business Agility". The paper reports findings from two real-world studies in which managers of the ministry along with those from partner organizations (e.g., consulting firms) participated in parts of PI-planning events using state-of-the-art VR headsets.
In this particular TechTalks episode, Nilusha Aliman together with André Henke discusses findings of the second study, which compares a 45-minute meeting in virtual reality with a 45-minute meeting via videoconferencing as part of the ministry's PI-planning event in December.  Overall, findings of both studies show that meetings in the enterprise metaverse can benefit from the unique characteristics of VR technology, resulting in higher levels of scaled business agility as perceived by the participating managers, along with other desired outcomes such as a more positive view of follow-up meetings.
The TechTalk episode with Nilusha Aliman is available on https://www.linkedin.com/events/7118338518900199424
 
The new working paper can be downloaded at https://xrlab-mcm.space/workingpapers
General information on what the Marketing Center Münster is doing with spatial realities can be found at: https://xrlab-mcm.space.