Marketing Center Münster shows its athletic side at school-wide WiWi-Cup soccer tournament!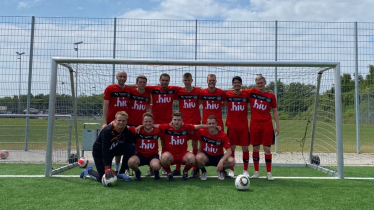 The Marketing Center Münster showcased its sporting talent at this year's WiWi-Cup held in Gievenbeck, Münster on June 7, 2023. Fittingly named the "Marketing Mavericks 23", the team consisted of a mix of academic staff from the Chair of Marketing & Media and the Chair of Marketing Management along with student assistants and friends. As the WiWi-Cup annually attracts numerous soccer enthusiasts associated with the Münster School of Business and Economics, the Marketing Center Münster was proud to be part of this exciting event!
The day started promisingly as the "Mavericks" put their potentials at display in the initial round of the tournament. With their skillful dribbling, cohesive teamwork, and a strong offense, they scored a solid eight points in five exciting matches, which allowed them to proceed into the elimination phase of the tournament's best teams!
In the round of 16, the "Mavericks" started strong, but nevertheless had to face a defeat. Nevertheless, they exhibited remarkable resilience and determination throughout their journey in the WiWi-Cup, making the MCM proud! The team also provided a strong performance in the evening, when all participants, players and fans gathered at the Juridicum to celebrate the WiWi-Cup in a fitting manner.
The Marketing Center Münster congratulates their "Mavericks" team on their accomplishments and looks forward to celebrating more athletic (as well as academic…) successes in the future!